Senior Muslim leaders in Britain have expressed concerns that a controversial Saudi preacher who arrived in London this week could exacerbate sectarian tensions.
They told HuffPost UK said they feared Mohammad Al-Arefe's presence could "negatively impact the peaceful co-existance amongst the Muslim community".
Al-Arefe, who is a Sunni Muslim, arrived in London this week, according to Tell Mama, which monitors intra-faith anti-Muslim prejudice, as well as Islamophobia.
The organisation's director, Fiyaz Mughal, told HuffPost UK they were tipped off about Al-Arefe's presence via their hotline, and have been liaising with the Home Office.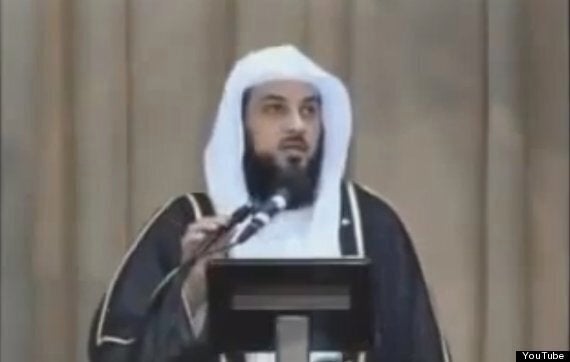 Mohammad Al-Arefe, who has arrived in the UK
The Huffington Post UK has asked Al-Arefe to comment on the allegations that his sermons are anti-Shia, but no response has been received.
Sheikh Yasser Al-Habib, 33, was imprisoned in 2003 for inciting sectarianism after attacking key figures of Sunni Islam. Al-Habib has denied that he preaches hate against Sunnis or other faiths.
It is believed to be the first anti-Shia demonstration on British streets. It was roundly condemned by both British Sunni and British Shia groups.
Labour MP Khalid Mahmood, a Sunni Muslim, told HuffPost UK he expected action from the Home Office. "These preachers are purely here to promote themselves and create divisions where none need to exist.
"Neither he [Al-Arefe], or Al-Habib should be allowed to do this. And the Home Office must take action on this issue. This is just another branch of hatred, and it's bizarre the Home Office doesn't listen to people who are concerned about this.
"People in the Shia and Sunni communities do not want to be associated with these people, and the Home Office has a duty to examine this."
The Al-Khoei foundation, a leading British Shia institution, has also said they are gravely concerned about Al-Arefe's presence in the UK, particularly as the conflict in Syria has taken on a sectarian nature, and leaders fear the effects of the Sunni-Shia violence could spill over into tensions in the British Muslim community.
Yousef Al-Khoei, director of the institution, told HuffPostUK: "We have had a very cordial relationship for many years between Sunni and Shia Muslims. But preachers come from abroad, and try to stir it [division] up.
"He [Al-Arefe] has been very vocal in trying to create these divisions. But we will work to make sure these guys don't win."
"He has said he is on a mission, a jihad, at a lecture in Egypt. And we expect him to say this, and expect that his very presence on British land to be controversial."
"Whenever this happens, the community gets together to fight it. We can't allow people to come from abroad to promote their hate message in this country.
"We try to deal with it within the community, but we will have to get the police involved if it overflows. This is what happened when Anjem Choudary took his anti-Shia protest to Edgware Road. As a community we stand together against it, and the police can deal with the legal side." Lebanese protesters wave the Syrian revolutionary flag, as they chant slogans during a protest after two Sunni Muslim sheikhs at dar al-Fatwa, Lebanon's highest Sunni Authority, were attacked by Shiite men
Several sources told HuffPost UK that Al-Arefe has not yet given any public speeches in London but this weekend he is due to speak at a London mosque, Al Mutada in Parsons Green, although HuffPostUK has not been able to verify this, and has asked the mosque for comment on Al-Arefe's visit.
Iraqi lecturer Mohammad Al-Hilli, also a Shia, told HuffPost UK: "The UK Muslim community is disappointed and deeply concerned at the arrival of Mohamad Al-Arefe.
"For many years, Al-Arefe has delivered lectures and sermons that has inflamed secterian tension amongst Muslims, especially Shia and Sunni.
"The presence of Al-Arefe in the UK will negatively impact the peaceful co-existance amongst the Muslim community, who are facing many challenges.
"He is due to speak in several mosques and centres, and will no doubt attempt to stir tension amongst the communities. Several YouTube clips, as well as messages sent on Twitter, highlight the sectarian agenda of this individual.
"The Muslim community strongly denounces his presence in this country and requests the Home Office to take action to ensure Al-Arefe leaves the UK and is not allowed to enter again."
Al Khoei told HuffPost UK that the sectarianism in Syria was a concern for British Muslims, but organisations were taking active steps to guard against further divisions. "When there are tensions abroad, it is likely that these tensions affect other countries as well.
"But we have built a very good working relationships between Sunni and Shia organisations in mosques, prisons, in this country."
The Home Office said it could not comment on individuals, but a spokesman said: "We are committed to tackling extremism in all its forms and will use the full force of the law to disrupt extremist activity."
WHAT IS THE DIFFERENCE BETWEEN SUNNI AND SHIA MUSLIMS?

Sunni and Shia Islam are the two major denominations of Islam. Around 90% of the world's Muslims are Sunni, and that is reflected in British demographics.

Sunnis are a majority in most Muslim communities: in Saudi Arabia, South East Asia, China, South Asia, Africa, and some of the Arab world. Shia make up the majority of the population in Iran, Iraq, Lebanon, Azerbaijan, and Bahrain.

The division centres on the schism which occurred after the death of the Prophet Muhammad in 632, over who would be his successor.

The divide has influenced conflicts across the world, most recently in Pakistan, Yemen, Iraq and Bahrain. In Syria, President Assad is an Alawite Muslim, a Shia sect. But the majority of Syrians are Sunni, and the conflict there has become increasingly sectarian.
Related