The number of homeless people sleeping rough on London's streets has almost doubled since Boris Johnson became mayor, new figures show.
Rough sleeping went up 13% in the past year alone, meaning 6,437 people slept rough in 2012, compared with 5,678 the previous year.
However since 2008, the year in which Johnson was elected, the number has doubled.
Boris Johnson had pledged to eradicate rough sleeping by the end of 2012. The mayor's housing spokesman Richard Blakeaway told the BBC that said the length of time people stayed on the street had been significantly cut, saying: "Now eight out of 10 new rough-sleepers only spend 24 hours on the street. That's completely different to what we had before."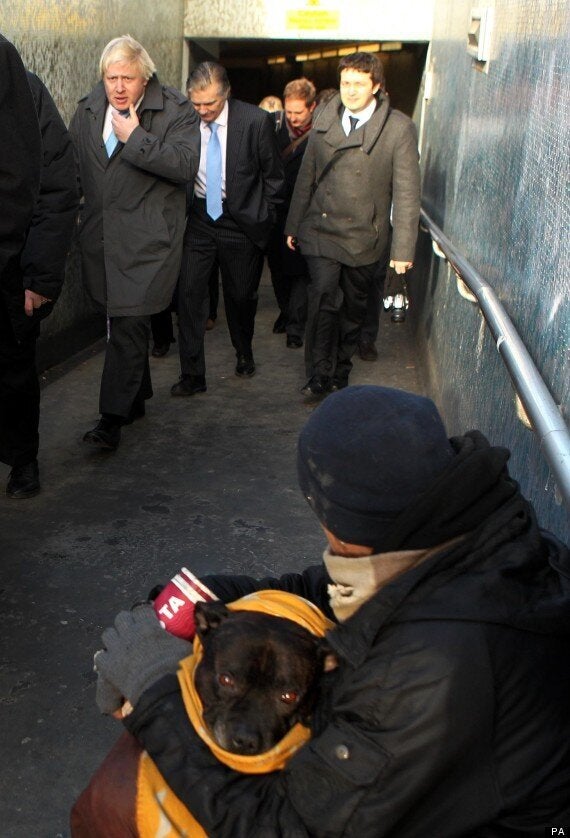 Someone living rough with his dog looks up to see Boris walking on during the mayor's trip to Croydon in January Homeless person in South London looks on as Boris walks past
Of those sleeping on the streets, 10% had served in the armed forces at some point, while 10% had some experience of the care system and 32% had experience of being in prison.
These percentages, gathered by homeless database Chain, had not changed year-on-year. Most of those seen rough sleeping were in the 26 - 45 age group.