Around 3,000 patients died needlessly last year as a result of poor care, and nearly half a million were harmed unnecessarily in the NHS, Jeremy Hunt will say today, as he calls on the health service to tackle the "silent scandal of errors".
The health service also recorded 326 "never events" - incidents so unacceptable that they should never happen in the last 12 months.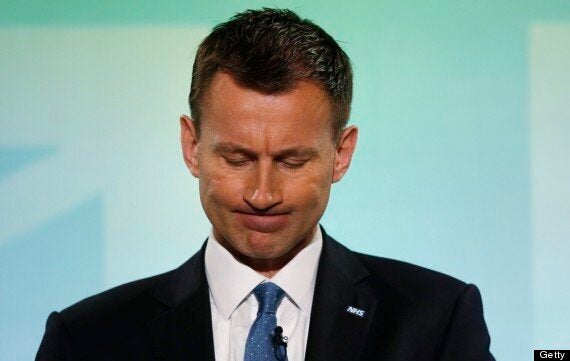 Jeremy Hunt will call for a change in culture in the NHS
In a speech at University College London Hospitals on Friday, the Health Secretary will suggest the UK has become "so numbed to the inevitability of patient harm that we accept the unacceptable" and call for a change in culture that means errors and injuries from care are constantly revealed and reduced.
Mr Hunt is expected to say: "We have allowed ourselves to settle for levels of patient harm that are simply unacceptable. The facts are clear - last year there were nearly half a million incidents that led to patients being harmed, and 3,000 people lost their lives while in the care of the NHS.
"I pay tribute to the many NHS leaders who have refused to accept any level of patient harm as satisfactory or inevitable and are fighting hard to turn the tide. We must make sure this reflected across the NHS. It is time for a major rethink - a different kind of culture and leadership, where staff are supported to do what their instincts and commitment to patients tell them.
"We must make sure that patients know where the buck stops and who is ultimately responsible for their care. And above all, we must listen more to NHS staff, so we can design systems that encourage them to act safely whatever pressures they face.
"I want the NHS to be the world's safest health system. It has all of the tools to do this, and I believe it should aspire to nothing less." The Care Quality Commission's former chief executive Cynthia Bower
It comes after revelations yesterday that the health watchdog's cover-up over a failure to investigate a series of deaths stretched all the way to the top of the organisation.
The Care Quality Commission's former chief executive, Cynthia Bower, was present during a discussion of the deletion of an internal review which criticised the regulator's inspections of University Hospitals of Morecambe Bay NHS Foundation Trust, where a number of mothers and babies died, according to an independent review.
Mr Hunt will add: "In the wake of Mid Staffs, Morecambe Bay and many other shocking lapses in care, we must ask ourselves whether we, along with other countries, have become so numbed to the inevitability of patient harm that we accept the unacceptable.
"That grim fatalism about the statistics has blunted the anger that we should feel about every single individual we let down, anger that should be the fuel of an uncompromising determination to put things right."
Health officials said the NHS tops the International Commonwealth Fund comparison on patient safety, beating France, Germany, Sweden, Norway and the US.
The health service sees nearly three million people every week and around 0.4% of those appointments ended up with incidents of harm while 0.003% ended with a person's death.
"This is a tiny proportion of the total number of people treated," Mr Hunt will say. "But even those figures amount to nearly half a million people harmed unnecessarily every year.
"And 3,000 people who lost their lives last year - not despite our best efforts, but because of failures in our efforts. That's more than eight patients dying needlessly every single day in our wards and operating theatres."
International studies suggest there is likely to be significant under-reporting of "never events", according to officials.
Of those recorded in 2011/12, 70 patients were given "wrong site" surgery, where the wrong part of the body or even the wrong patient was operated on, and 41 people were given incorrect implants or prostheses.
Mr Hunt will call for the NHS to become the first healthcare system in the world to publish information on the likelihood of a harm-free patient experience across every hospital in the country.
The Health Secretary will also set out proposals that mean the return of days when the name of the responsible doctor and responsible nurse were clearly written above every bed in every hospital, so patients know "where the buck stops".
Norman Williams, president of the Royal College of Surgeons, said: "We are clear: any preventable harm to patients is unacceptable. However rare these incidents are, never should mean never and avoiding such errors should be the priority of every surgeon.
"The Royal College of Surgeons, alongside NHS England, is currently running a 'never events' in surgery survey to find out what can be done better and to help us put an end to such errors.
"The return to having the name of the responsible doctor and responsible nurse above every bed is welcomed - it is only right and proper that every patient knows who is accountable for their care.
"The surgeon is the advocate for the patient and this relationship is built on trust. We must do all we can to continue to deserve this trust by ensuring any problems are raised and addressed early."
Sir Richard Thompson, president of the Royal College of Physicians, said: "The Health Secretary is right to focus on creating a supportive and transparent culture in the NHS. Robert Francis called for a fundamental culture change in NHS so that patients are the first priority of all that the NHS does.
"The RCP believes that more and better clinical leadership will help to develop and facilitate this. All doctors are clinical leaders; from day one on the ward they take responsibility for patient care and make decisions that affect others, so that leadership is a fundamental part of doctor's professionalism."