Ed Miliband has promised to be "ruthless" about pursuing Labour's public spending priorities despite accepting the need for further cuts beyond the 2015 general election. The Labour leader said he would not make any promises on changes to the spending plans set out by the Chancellor unless he can be "absolutely crystal clear" where the money would come from as he set out the "hard reality" facing the party.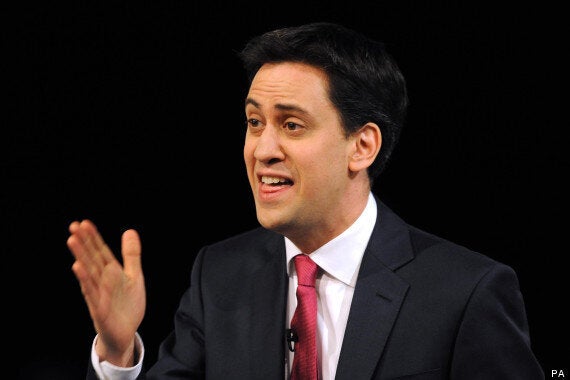 Can Miliband regain the nation's trust on finances?
Stressing the need for discipline in bringing down the deficit, Miliband ruled out more borrowing to fund day-to-day spending, meaning any changes to the Chancellor's announcements in his 2015/16 spending review would require cuts from elsewhere or tax increases. Miliband said he and shadow chancellor Ed Balls were clear about the approach, and insisted the rest of the Labour Party should get behind it.
The Labour leader told his party's National Policy Forum in Birmingham: "Nobody here should be under any illusions: the next Labour government will have to plan in 2015 for falling Departmental spending. And our starting point for 2015/16 is that we won't be able to reverse the cuts in day to day, current spending unless it is fully funded from savings elsewhere or extra revenue, not from more borrowing.
"So when George Osborne stands up next week and announces his cuts in day to day spending, we won't be able to promise now to reverse them because we've got to be absolutely crystal clear about where the money is coming from. We will show the discipline the challenge of our times demand. It is the only way we can credibly change our country. It's a hard reality.
"I am clear about it. Ed Balls is clear about it. And everyone in the Labour Party should be clear about it too." But he drew inspiration from the transformative post-war Labour prime minister Clement Attlee to say that even in tough times it was possible to make a difference and "give people hope".
Setting out how he would cope with his economic inheritance if he walked through the door of 10 Downing Street, Miliband said: "If we win that election in 2015, we will need to be ruthless about our priorities in public spending. It is why we have also said we don't believe it is right to say that we should carry on paying the Winter Fuel Allowance to the very wealthiest pensioners, those with incomes over £43,000 a year.
"It is why we won't be able to make it a priority to restore child benefit to families who earn over £50,000 a year. And it is also why we've said, when there is a shortage of school places in some parts of the country, it makes no sense to do what Michael Gove is doing and building his Free Schools in other areas where there is a surplus of places. Our principle on education is clear: all our children deserve the best start in life, not just some."
To win the next election, Labour will need to regain the public's trust that they can be placed in charge of the nation's finances. Miliband said: "To those who question whether Labour has the determination to bring the deficit down, I say we will. And to those who question our ability to change things, if we show discipline, I say we can."
Miliband also set out proposals to tackle developers who bank land with planning position without starting the construction of new homes. He said: "For decades now, Britain simply hasn't built enough homes. Fewer now than since the 1920s and the result has been that the prices of houses and flats have gone up and up and up, even in these difficult economic times.
"According to figures this week, many young working people will now have to save for 30 years before they can afford a deposit for a new home, denying them the start in life their parents' took for granted. That is wrong. It is why we should be investing now in house building. Nobody should be in any doubt of this party's commitment to building homes. But building more homes doesn't just need resources. We have to be willing to confront some of the obstacles to house building.
"Across our country, there are land-owners with planning permission, sitting on land, waiting for it to accumulate in value and not building on it. We have to change that, including giving councils real power to say to developers that they should either use the land or lose the land."
Ahead of the Chancellor's spending review on Thursday, Miliband will say the public are being asked to pay the price of Osborne's failure. He said: "We know what they should be doing next week. They should be investing in the future of our country. Even the IMF has called for a £10 billion investment in our economy in the next two years. Because that is the best way to get growth in our economy, we can generate jobs, improve living standards, and yes, to pay the deficit down.
"But that's not what they're going to do. They're going to keep making the British people pay the price for their failure. Two years ago, George Osborne said: 'We have already asked the British people for what is needed, and we do not need to ask for more'. Next week he will break that promise. Because this Government has failed.
"For all the cuts, all the pain, all the tax rises, they are saying the deficit will be £78 billion higher at the next general election than they planned. And who is paying the price of their failure? This week we discovered that bonuses in our banks were higher this April than at any time since records began. Up 64% on a year ago as people have their first opportunity to take advantage of the millionaires' tax cut offered by David Cameron.
"It certainly feels like a recovery for those at the top. But it still feels like a recession for everybody else. Wages down. Prices up. Living standards falling for longer than they ever have in our history. That is the reality of David Cameron's Britain. We have to turn it round."
Conservative Party Chairman Grant Shapps said: "Ed Miliband's refusal to admit that Labour spent and borrowed too much in government, and his call for more spending and borrowing now, shows that he's too weak to stick to his promise not to spend and borrow more. Ed Miliband only offers more spending, more borrowing and more debt - the same old Labour approach that got us into this mess in the first place. Hard working people would pay the price with higher interest rates and higher bills."