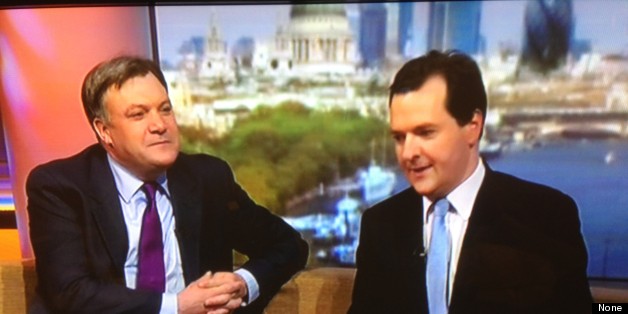 None
The ten things you need to know on Sunday 23 June 2013...
1) AVENGERS ASSEMBLE, ANTI-AUSTERITY EDITION
From the Huffington Post:
Union leaders warned on Saturday of co-ordinated industrial action against the Government's spending cuts as thousands of activists gathered to highlight the impact of the coalition's controversial austerity measures. The so-called People's Assembly brought together unions, politicians and campaign groups amid complaints that minsters were "deaf" to the concerns of ordinary people.
More than 4,000 people packed into Westminster Central Hall, cheering speeches from union leaders including Len McCluskey of Unite... politicians including Green Party MP Caroline Lucas, and officials from a number of protest and campaign groups.
"... Delegates attending the conference agreed to mobilise for a day of civil disobedience on November 5 against the Government's austerity measures."
The anti-Austerians assembling in London yesterday to fight the cuts this year may find themselves fighting against a future Labour government, too, post-2015.
Yesterday, Ed Miliband told Labour's National Policy Forum in Birmingham: "Our starting point for 2015-16 will be that we cannot reverse any cut in day to day, current spending unless it is fully funded from cuts elsewhere or extra revenue - not from more borrowing... It's a hard reality."
Writing in today's Sunday Mirror, shadow chancellor Ed Balls says Labour "won't be able to reverse cuts in day to day spending in 2015 unless we can find savings or extra revenue from elsewhere".
To be fair to both Miliband and Balls, they both say capital - as opposed to current - spending could go up after 2015, via extra borrowing, and say they would do (fiscal) things differently were they in government now, rather than two years time.
Nonetheless, in politics perception is everything and it is difficult to disagree with the Sunday Telegraph's Matthew D'Ancona that the two Eds' "shuffle from Keynesian home-turf towards a red-tinged fiscal conservatism is perhaps Osborne's most significant victory to date".
Earlier this morning, on the Andrew Marr show, Balls and Osborne found themselves sitting next to each other on the BBC sofa - and the latter tried to go in for the kill. "We have clearly won this argument that Britain has to live within its means, the deficit has to come down and Labour is very confused about how they present their argument," said a smiling chancellor.
Balls responded by telling presenter Sophie Raworth: "George said in the Autumn Statement the deficit could come down last year and it went up... I think to be honest he should quit all his chancellor games and come marathon running with you and me, Sophie."
2) CATCH ME IF YOU CAN
The NSA leak story continues to look more and more like the storyline from a (bad) Hollywood spy movie. From the BBC:
"US intelligence fugitive Edward Snowden has flown out of Hong Kong, the Chinese territory's government has confirmed.
"The South China Morning Post quoted 'credible sources' as saying he was due to arrive in Moscow on Sunday evening.
"It said Moscow would not be his final destination.
"Snowden, an intelligence analyst, fled to Hong Kong in May after revealing details of extensive internet and phone surveillance by the US National Security Agency (NSA).
"'Mr Edward Snowden left Hong Kong today (June 23) on his own accord for a third country through a lawful and normal channel,' the Hong Kong government said in a statement."
Meanwhile, the Observer splashes on:
"Edward Snowden, the former CIA technician who blew the whistle on global surveillance operations, has opened a new front against the US authorities, claiming they hacked into Chinese mobile phone companies to access millions of private text messages."
3) FEED 'EM, DON'T JUST BOMB 'EM
Do you want to to know the definition of a 'false economy'? Cutting the aid budget to protect the defence budget. Don't take my word for it. From the Observer:
"Some of Britain's most senior military figures have warned David Cameron that Britain will be less safe if he starts clawing money from the overseas aid budget to shore up the military.
In a letter to the Observer, nine prominent members of the military establishment - including former chiefs of the defence staff Sir Mike Jackson and Lord Stirrup - call on Cameron to resist pressure from Ministry of Defence officials to cut or divert the aid budget, describing it as 'critical to the UK's national interests'.
"... The authors say that 'the military is rarely decisive on its own; a holistic approach is needed to address the root causes of conflict. Focused and accountable development spending is essential to achieve this'... The letter's signatories warn that 'soundbites and political expediency' should not be allowed to cloud the need for a 'properly thought-out national strategy to protect the UK's interests and shape the world for the better'."
4) POOR, NON-WHITE AND WANT TO COME TO THE UK? PAY UP, PLEASE!
From the Sunday Times:
"Visitors from India, Pakistan, Nigeria and other 'high risk' countries in Asia and Africa will be forced to pay a £3,000 cash bond before they can enter Britain.
"From November, a pilot scheme will target visitors from seven countries who will have to pay the government a form of cash guarantee or deposit to deter immigration abuse. They will forfeit the £3,000 if they overstay in Britain and fail to return to their home countries by the time their visa has expired.
"The controversial move by the home secretary, Theresa May, to introduce the Australian-style system reflects her determination to show that the Tories are serious about cutting immigration and curbing abuses."
5) 'WESTMINSTER FOR SALE', PART 87
From the Sunday Times:
"A lobbyist has been caught on film boasting that he masterminded a House of Lords debate to push a paying client's agenda and fed the opening speech to a peer who read it out almost 'verbatim'.
"Undercover reporters investigating lobbyists selling influence in Westminster were told how debates, speeches and questions could be arranged in both houses of parliament.
"John Stevenson, of Freshwater Public Affairs, said he had engineered a whole Lords debate in April on behalf of a client paying him to lobby against £25bn plans for a tidal barrage in the Severn estuary.
"He claimed to have persuaded a former Tory minister to table the debate and read out a 10-minute speech he said he had written calling for the plans to be 'strangled'."
BECAUSE YOU'VE READ THIS FAR...
Watch this video of a dog doing everything it can to avoid having to take a bath.
6) EX-HEALTH SECRETARIES UNDER FIRE
The Sunday Mirror headline says: "Ex-Minister In Cover-Up Care Denial", referring to Andy Burnham.
The Sunday Telegraph says it has seen a "tranche of documents" provided to the Francis Inquiry into the Mid Staffs NHS scandal which "include a letter from Andy Burnham, then health secretary and now Labour's shadow health spokesman, telling the health care regulator in November 2009 that its role was to 'restore public confidence in the NHS'.
"Another document shows how Mr Burnham's special adviser said she was 'frankly disgusted' by television coverage exposing a hospital scandal before ministers were briefed on it.
"Mr Burnham was last night facing growing questions over his performance as health secretary.
"A Conservative MP whose constituents use the Furness hospital wrote to him to ask if he put political pressure on the CQC to prevent it criticising the NHS."
The paper adds:
"Mr Burnham insisted last night that... ministers did not put pressure on the CQC to tone down any criticism of hospitals."
The former Labour health secretary has also been on Sky News this morning, insisting that the claim he tried to hush up NHS scandals was "fundamentally disproved" by his decisions in office.
Meanwhile, "the cabinet minister and former health secretary Andrew Lansley threatened to sack a whistleblower who lifted the lid on how the country's health regulator was failing patients, a Sunday Times investigation has revealed.
"Kay Sheldon warned at a public inquiry in 2011 that the leadership of the Care Quality Commission (CQC) — where she was a board director — was in disarray and public safety was at risk."
7) DON'T TEAR THIS PLACE APART
From the Huffington Post:
"Former US president Bill Clinton has urged both sides of the Scottish independence debate to respectfully weigh up the pros and cons without 'tearing the place apart'.
"The two-term leader, speaking at the Scottish Business Awards in Edinburgh, said that while he does not know enough about the domestic constitutional debate, he has top-level experience from other states around the world. 'You will come out of this better, regardless, if you go about it in the right way,' he told an audience of about 1,400 business representatives, and First Minister Alex Salmond.
"'It's really important that there be an honest effort to list the consequences of this vote, one way or another. And then people that believe they are now, and might be on different sides, actually sit down and talk to each other about it.'"
8) ALL IN THIS TOGETHER?
From the Telegraph:
"The number of business class flights taken by MPs at the taxpayer's expense has nearly doubled in a year, an investigation by The Sunday Telegraph has discovered.
"Ten parliamentarians have claimed for more than 100 premium air fares each, with some of the flights worth as much as £850. Over the past three years MPs have spent nearly £500,000 of public money on such tickets.
"Rules introduced after the 2009 expenses scandal usually oblige MPs to buy economy class tickets. But our investigation shows that 55 members used a loophole to purchase business class fares that can be twice as expensive as standard class."
How are those reforms to the lobbing rules going, Dave?
9) MORE FALSE ECONOMIES - THIS TIME IN THE NHS
From the Observer front page:
"The number of new mothers attempting to breastfeed has fallen in England for the first time in almost a decade.
"New figures suggest 5,700 fewer women initiated breastfeeding with their child in 2012-13 than the year before. It is the first recorded fall since the Department of Health began collecting the statistics in 2004.
"... The statistics have prompted the Royal College of Midwives (RCM) to voice serious concerns over a lack of promotion of breastfeeding under the current government... The RCM also says there is a shortage of 5,000 midwives and reports that the NHS is cutting back on antenatal and postnatal care as its budget is squeezed."
Talking of false economies:
"Last year Unicef UK published research claiming the NHS could save £40m a year if more women were given help to breastfeed for longer. It said there were potential savings in five disease areas: breast cancer in mothers, gastroenteritis, respiratory illness, ear infections and the life-threatening condition necrotising enterocolitis in babies."
10) 'THE FIVE-YEAR-OLD ONES WILL LOVE HIM'
From the Sun on Sunday:
"Prime Minister David Cameron has found a new way of keeping up with the kids — a child's SCOOTER.
"The 46-year-old was pictured riding his £120 Micro Scooter through Regent's Park, central London.
"... One onlooker said: 'If he's trying to appeal to a younger audience this is the right way to go about it — the five-year-olds will love him.'"
PUBLIC OPINION WATCH
From today's Sun/YouGov poll:
Labour 39
Conservatives 31
Ukip 13
Lib Dems 10
That would give Labour a majority of 92.
900 WORDS OR MORE
Will Hutton, writing in the Observer, says: "Blame austerity, not old people, for the plight of Britain's young."
John Rentoul, writing in the Independent on Sunday, says: "Protected by the amulet of Saint Clem, Ed Miliband could go on to bury John Maynard Keynes."
Adam Boulton, writing in the Sunday Times, says: "It's dangerous to ignore the bridesmaids, PM."
Got something you want to share? Please send any stories/tips/quotes/pix/plugs/gossip to Mehdi Hasan (mehdi.hasan@huffingtonpost.com) or Ned Simons (ned.simons@huffingtonpost.com). You can also follow us on Twitter: @mehdirhasan, @nedsimons and @huffpostukpol