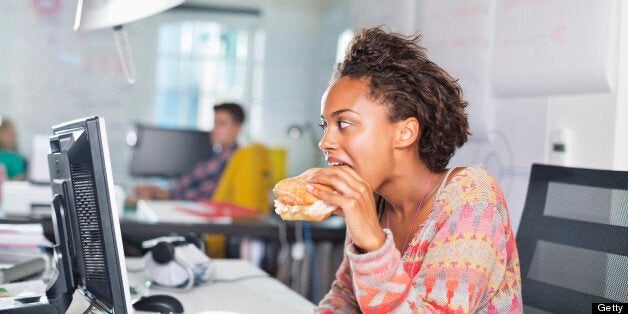 Bad lifestyle choices are causing British workers to age before their time - and "creating a time bomb" for UK companies, according to a study.
Almost 10,000 employees were surveyed in the first Britain's Healthiest Company Index which was designed to give companies a better understanding of the health and lifestyle of their employees.
Based on the presence or absence of certain health risk factors, the survey found that 86% of workers have a Vitality (health) Age of 4.1 years older than their real age due to unhealthy lifestyles, therefore reducing their life expectancy.
Health insurer PruHealth's Vitality Age calculator gives people an understanding of their true level of health by assessing if a person's health-risk age matches their chronological age.
Vitality Age gives an estimate of years of life lost or gained by taking into consideration the presence or absence of certain risk factors.
Nearly a third (31.2%) of employees have three or more risk factors, putting them at serious risk of ill health, and the biggest contributing factors for a higher Vitality Age are lack of physical activity and being overweight.
Men aged between 40 and 49 are the group most likely to have a higher Vitality Age, while those with a higher Vitality
Age than their real age are 12% more likely to visit the GP and 13% more likely to be hospitalised.
Neville Koopowitz, chief executive of PruHealth, said the higher Vitality Age of so many of Britain's workers is "creating a time bomb for UK Plc", and said British companies will have to pick up the increasing cost of absenteeism.
He added: "Over the last few decades people have been living longer but they are not living longer, healthier lives and are very likely to suffer from chronic disease, dramatically reducing quality of life, with their employers picking up the bill.
"For many decades it has been accepted that children will live longer than their parents but for the first time in generations, there is mounting evidence that this trend of longer life is now reversing, in no small part due to lifestyle factors such as obesity and smoking.
"Our research backs-up this trend showing that today's workforce are losing over four years off their lives."
John Anderson, UK market business leader for Health and Benefits at global consulting leader Mercer, which was also involved in the study, said the working environment plays a "crucial role" in shaping the health and well-being of staff.
He added: "Employees who feel their employer cares about their health and well-being are more likely to be more engaged and loyal, resulting in higher productivity, higher profitability and higher customer support.
"These latest findings add to the business case for ensuring a healthy company."