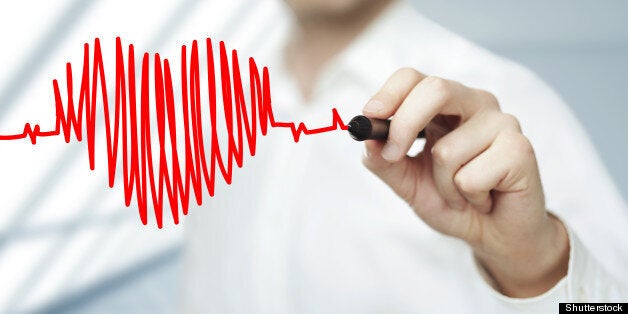 Heart disease death rates in many European Union countries including the UK have more than halved since the 1980s, new research has shown.
But despite the steady reduction in mortality in both sexes, heart disease remains a leading cause of death in Europe.
The study authors say they see no sign yet of the improvement being cancelled out by obesity and diabetes, both growing heart disease risk factors.
However there was significant variation between countries and increases in death numbers among certain age groups in some regions.
Even in countries showing encouraging downward trends, the absolute number of heart disease deaths remained high.
Lead researcher Dr Melanie Nichols, from Oxford University, said: "It is important that we continue to focus efforts on primary prevention, including reducing smoking, improving diets and physical activity levels."
Dr Nichols and colleagues at the British Heart Foundation Health Promotion Research Group at Oxford looked at the pattern of deaths from coronary heart disease between 1980 and 2009.
They saw a "large and significant" decrease in death rates in both men and women when all ages were grouped together.
Denmark, Malta, the Netherlands, Sweden, and the UK showed the greatest falls in heart disease death for both sexes.
Exceptions were found in Hungary, Latvia, Lithuania and Poland where the decreases for men were small and not statistically significant, according to the research published in the European Heart Journal.
In Romania, there was a small but significant increase among men.
For women, non-significant decreases were seen in Greece, Hungary, Lithuania, Poland, Romania and Slovakia.
In the UK, there was some evidence that the downward trend was beginning to plateau for men and women younger than 55.
"Overall, across the EU, rates of death from coronary heart disease have continued to fall in most age groups in most countries," said Dr Nichols. "There are some exceptions, however, and there remain wide disparities across Europe in both the absolute rates of death from heart disease and the rates of improvement.
"In a small number of countries, there is some evidence that the decreasing trends may be slowing, including among younger age groups, probably due to increases in risk factors such as obesity and diabetes. These countries are, however, clearly in the minority."
Rising risk factors such as diabetes and obesity, and increased smoking in some countries, could still have an impact on heart disease deaths in years to come, said the researchers.
They wrote: "This effect is.. not yet clearly apparent across the EU, and there may still be time for public health policy and action to have an impact on these risk factors..
"It is crucial that future research continues to monitor trends in CHD risk factors across the EU."
Related