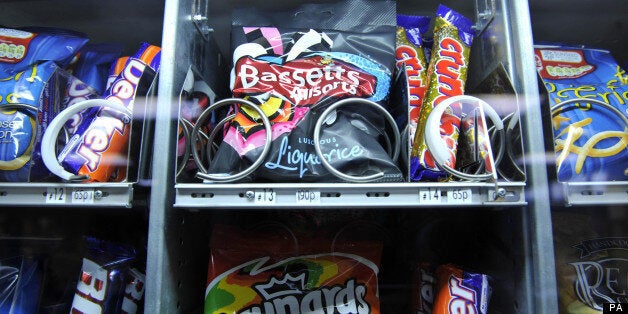 Hospitals should ban the sale of junk food and unhealthy drinks, leading doctors have said.
For many patients and their families, vending machines or people with trolleys offering crisps, chocolate and cans of pop are the easiest way to get some food in hospitals.
Officials also said it is "obscene" for hospitals to have fast food chains on site.
The call comes just a day after Chancellor George Osborne tweeted a picture of himself eating a burger and drinking fizzy drinks at his desk.
Cardiologist Dr Aseem Malhotra said that to combat the obesity epidemic, hospitals should take a stance against selling junk food.
Dr Malhotra, who works at London's Royal Free Hospital, told delegates at the British Medical Association's annual conference in Edinburgh that 60% UK adults overweight and obese and one in every three children are overweight or obese by the time they leave primary school.
"It is appalling to observe on ward rounds patients, some of whom are not fully mobile, gorging on crisps, confectionery and sugary drinks - the very food items that may have contributed to their admissions in the first place," he said.
"It is obscene that many hospitals continue to have high street fast food franchises on site as well as corridors littered with vending machines selling junk food."
Medics at the conference passed a motion calling for all NHS premises to ban the sale of junk food and unhealthy drinks.
Meanwhile they also urged the Government to extend the free fruit and vegetable scheme to include all primary school children.
At present children in England aged four to six are given a free portion of fruit or vegetables each school day.
Medics also expressed concerns about the number of patients who smoke in front of hospitals.
They said that rules prohibiting smoking near the entrances to hospitals are "routinely ignored" and called for health bosses to impose tougher penalties for staff or patients who break such rules.