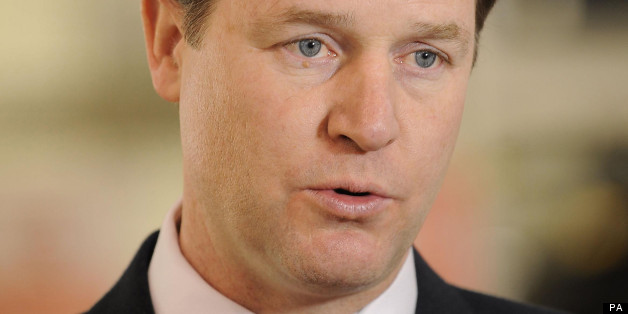 PA
Deputy prime minister Nick Clegg will suggest on Monday two parties are better than one when it comes to tackling the "intractable problems" that have troubled single party governments for decades.
The Liberal Democrat leader will say the Coalition "continues to confound its critics" by staying the course despite claims of infighting as he argues it is has taken on the trickiest issues such as social care, welfare reform and pensions.
He will make the comments at the start of a new series of monthly press conferences with journalists in Westminster in a move that harks back to the regular media question and answer session staged by Tony Blair and Gordon Brown during their time in No 10. The practice was quietly dropped by prime minister David Cameron shortly after he took office.
Clegg, who also co-hosts weekly radio phone-in Call Clegg on LBC 97.3, will tell reporters that his party continues to recognise "that it is our duty to put party differences aside for the sake of the national interest" and will lash out at Labour for being "incapable of making a single decision".
In an opening statement, Clegg is expected to say: "Last week was a bad week for naysayers from across the political spectrum who feel that the Coalition has run out of steam.
"It was an even worse week for the Labour Party, who were shown to have no answers to the big economic questions still facing this country. But it was a good week for anyone who cares about getting the job done in rescuing, repairing and reforming Britain's economy.
"For the Coalition, last week shows that we continue to be capable of taking the difficult decisions on the economy. Finding an additional £11.5bn of savings is not the kind of thing that gets easier after three years of government.
"On the contrary, it should be much harder. Money is tight; departments are already stretched; people have been living with austerity for a while; and at this stage you'd expect Coalition goodwill to be on the wane - it is less than two years to the general election after all.
"Just a few months ago, there were predictions that the Coalition would be so beset by infighting, it would be impossible to deliver.
"And yet the coalition parties continue to provide decisive Government, working together to confront the tough choices. For our part, the Liberal Democrats remain unambiguously committed to the economic strategy; and we continue to recognise that it is our duty to put party differences aside for the sake of the national interest.
"Yes, sometimes there are disagreements in government. Our parties come at the world from very different perspectives. But sincere differences on policy substance are a normal and healthy party of any government and on the most important questions this Coalition continues to confound its critics and is proving remarkably durable.
"And for anyone who thinks the Government is running out of steam: we're driving the biggest public housing programme for two decades. The largest programme of rail investment since Victorian times, the greatest investment in our roads since the 1970s, fast online access for the whole country, unlocking massive investment in cleaner energy.
"And we are gripping intractable problems that have troubled single party governments for years, be it social care, welfare reform, pensions and so on.
"While the Coalition is delivering on the big decisions it turns out Labour, on the other hand, are incapable of making a single decision. I think I preferred it when Labour stuck to their monastic vow of silence on the economy - when they tell you what they think it's extraordinarily difficult to follow.
"They say they'll maintain an iron discipline, but they want to borrow more. They accept our spending plans, but decry every cut. They've promised a tax on Bankers' bonuses, but have changed their mind on how to spend it at least six different times.
"The Labour party has gone from taking no position to taking every position. The only thing they won't say is the one thing people want to hear: Labour accepting responsibility for leaving the economy in tatters.
"Ed Balls has said there's no evidence the Labour government spent too much. We found some on our first day in office: Liam Byrne's note to David Laws, stating in black and white, there's no money left."