As prime minister, you would expect to have to participate in ceremonies in foreign countries, all in the name of diplomacy.
But it would be hard to look more awkward than David Cameron in this striking image, grim-faced and cross-legged, as he arrives for a wreath-laying ceremony at the Monument of the Motherland Defenders in Astana, Kazakhstan.
Kazakhstan might be most famous in the UK as the fictional birthplace of Borat, but Cameron is interested in the business potential of the oil and mineral-rich central Asian state.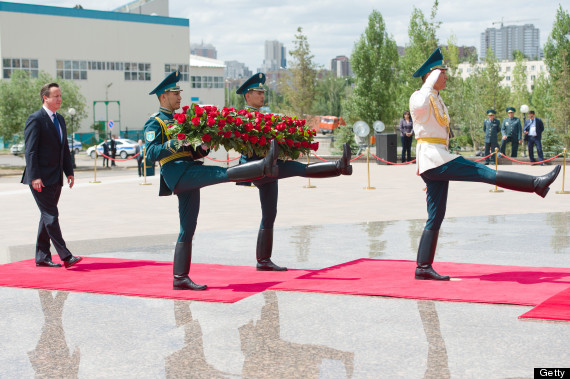 A wreath-laying ceremony at the Monument of the Motherland Defenders in Astana, Kazakhstan
Human Rights Watch say the state has a "serious and deteriorating" human rights situation "including credible allegations of torture, the imprisonment of government critics, tight controls over the media and freedom of expression and association, limits on religious freedom, and continuing violations of workers' rights".
In a eyebrow-raising speech, president Nursultan Nazarbayev, who human rights groups say is a dictator, gave the PM a ringing endorsement, and said he would back Cameron if he had a vote in the British elections.
Cameron, who promised to raise human rights concerns, held talks on the presidential jet last night with president Nazarbayev, and visited the Irish Bar in Astana's Rixos hotel for a nightcap before holding further discussions at the Al Orda Palace on Monday morning.
The prime minister gave the president a set of Links of London commemorative Wimbledon 2013 cufflinks, reflecting Nazarbayev's love of tennis.
The president gave Cameron a commemorative coin set and a bound leather book of Kazakh stamps.
They dined on a lunch featuring traditional Kazakh dishes, including salmon with goats' cheese, turkey kuyrdak, consomme with vegetable julienne and spinach and cheese cheburek, veal manty with tomato confit and pesto sauce finished off with pistachio, cherry and berry nougat with caramel sauce.