Who wants a beer-swilling striker whose best years might be behind him? Neymar does. The new Barcelona forward has spoken of his admiration for Wayne Rooney, seen lager-in-hand at Glastonbury on Friday.
"I have met Wayne on a few occasions and he seems a good guy but importantly, he is one of the players I admire most in the world," Neymar said.
"Wayne is one of the most gifted and technical players in the world.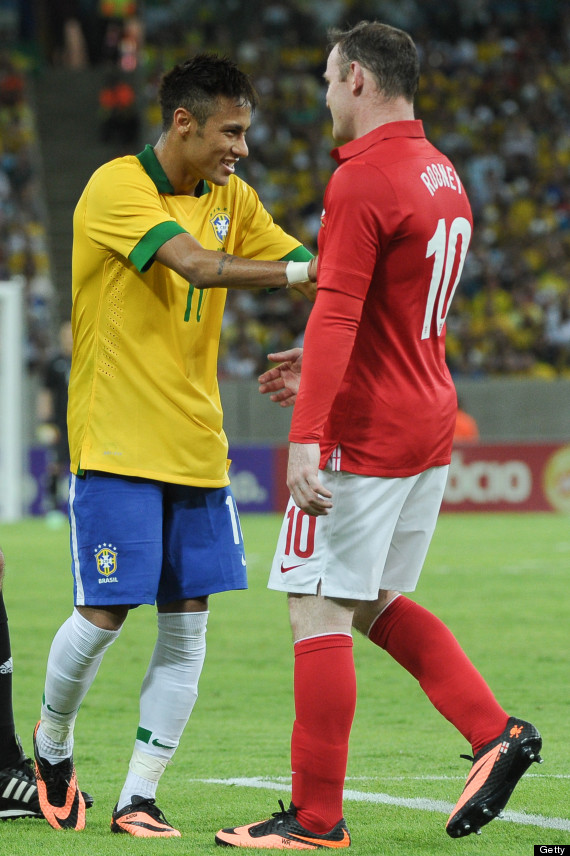 Neymar and Rooney share a joke at the Maracanã
"Of course he would improve Barcelona. He would improve any club in Europe. And on a personal level, it would be a dream to play with him."
Rooney's work-rate is tailor-made for Barcelona and considering how far he has fallen at Manchester United, he might not be too concerned with being played out of position at Camp Nou.
The 27-year-old striker's qualm with Sir Alex Ferguson was over his role in the first XI.
Arsenal fear their chances of signing Rooney will be hijacked by a bigger club, according to the Star.
Big clubs aside, gallingly for the Gunners teams in the Championship (Wigan) and League Two (Portsmouth) have won more in the last eight years, and Rooney's all about the ambition, don't you know.
Manchester United have five central defenders yet continue to be linked with Ezequiel Garay, scouted under Ferguson.
The underwhelming Argentine has hardly set the world alight at Benfica while United, who play their first pre-season game in 19 days, are still yet to address their midfield malaise.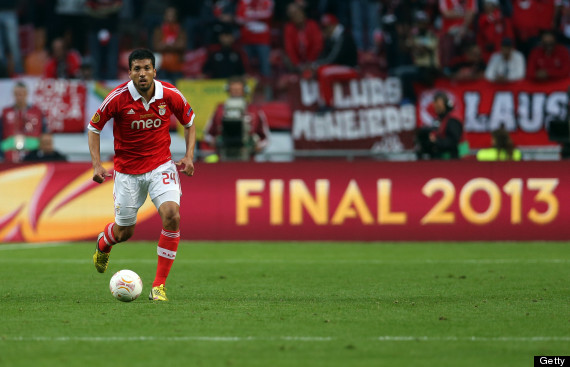 Ezequiel Garay: unnecessary
André Villas-Boas has telephoned David Villa in a bid to persuade the Spaniard to join Tottenham, report the Times.
That's quite the early approach from Tottenham, who are still on course to start and finish their summer dealings on deadline day, as they effectively begin their season in September again.
Spurs however look set to sign two of Europe's highest-rated young players in Dinamo Zagreb defender Tin Jedvaj and midfielder Alen Halilović, who are both 17. The duo would remain in Croatia on loan until they turn 18, write the Mirror.
Hull City are keen on Richard Dunne, recently released by Aston Villa, according to the Mail.
The Tigers have already brought in Curtis Davies to bolster their defence.
Is Newcastle's French connection about to be dismantled? Is another player set to leave on the back of Joe Kinnear pronouncing his name incorrectly? The Guardian say Paris St-Germain are set to bid for Yohan Cabaye, and quote £20 million as the potential offer.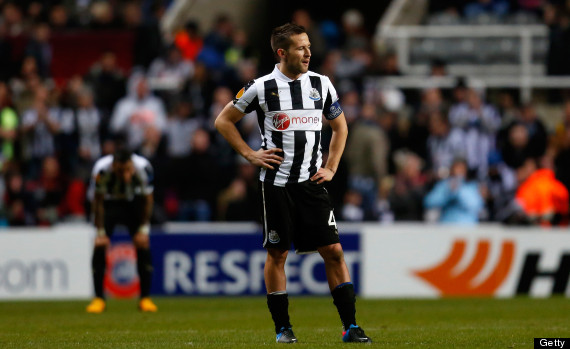 Cabaye struggled in 2012-12 with Newcastle
However good a player Cabaye is he experienced second season syndrome (then again, didn't everyone at Newcastle) in 2012-13 and Newcastle could sell him for five times the amount they bought him for from Lille.
Cabaye was dubbed "kebab" by Kinnear, who referred to Charles N'Zogbia as "Charles Insomnia" in 2009.
And although Blackpool have accepted an £8m offer from Cardiff City for winger Thomas Ince, his manager and father, Paul, hinted his son is not in a rush to move to Wales. Who would be?