Meadering through the train station, clutching a carton of coffee, most commuters glance upwards expecting to see the train times or a fast food advert on the big advertising screens.
But Chinese commuters were treated to explicit scenes from a famous erotic film, after a hapless technician living in the railway station settled down for some evening entertainment, when he believed the computer was disconnected from the network.
The South China Morning Post reported that scenes from a film version of the erotic story 'Xin Jin Ping Mei', a Ming Dynasty legend translated as The Plum In The Golden Vase, were broadcast in the north-eastern city of Jilin, close to the North Korean border.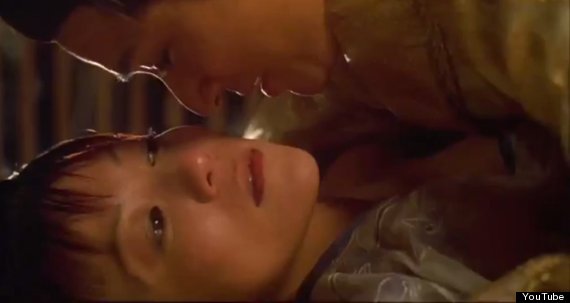 The film is believed to be the Hong Kong feature 'The Forbidden Legend of Sex and Chopsticks
It was made into a particularly sexually explicit film in Hong Kong in 2008 with the title "The Forbidden Legend of Sex and Chopsticks", though it is not clear which version was broadcast.
The Hong Kong version, which explores the sexual awakening of a rich young man and involves sex scenes with both a nun and the widow of a dwarf, is banned in mainland China.
The paper quoted the Jilin Public Security Bureau who said the film appeared for about 10 minutes on a large public screen, the property of the Southern Advertising Company, less than 200 metres from the station's ticket office, and police were called.
Chinese news agency Xinhua said that the LED screen had malfunctioned and a technician, Yuan Mo, was working on fixing it and living in the Kaixuan building where the screen was mounted.
Yaun was taken into questioning, Xinhua reported, and told police that he had begun watching the film in the belief his computer was disconnected from the screen - but received a frantic phone call from Southern Advertising telling him he was broadcasting scenes of a sexual nature.
A panicked Yaun then reportedly turned off the screen and destroyed the DVD.
SCMP said Chinese Weibo users shared pictures of the porn on the big screens, though most expressed sympathy for Yaun, saying the film should be shown in public more often.