A hidden microphone has reportedly been found in the Ecuadorian Embassy in London, where WikiLeaks' Julia Assange has sought refuge, according to the country's foreign minister.
Ecuadorian foreign minister Ricardo Patino said the bug was found in the office of the ambassador Ana Alban during a routine search ahead of his visit to London on June 16, according to AFP.
He added that he would shortly be releasing more information.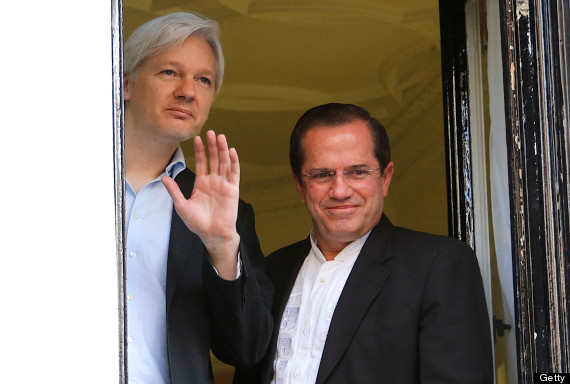 Ricardo Patino looks on as Julian Assange waves from the window of the Ecuadorian embassy
"We found something, but we don't know what it is, and we are sending it to someone who can respond to what it is about... I don't know how long it has been there," Alban told ITV News.
WikiLeaks responded on Twitter with outrage:
Sieging/bugging of Ecuador's London embassy and the blockading of Morales jet shows that imperial arrogance is the gift that keeps on giving

— WikiLeaks (@wikileaks) July 3, 2013
In a press conference in Quito, Patino said the bug had been found some weeks ago, shortly before his visit.
"We found that the device was used to collect all kinds of information in our embassy office. I didn't make it public at that time for we didn't want to affect the visit.
"But we immediately conducted an investigation to find the source and I will release our result at tomorrow's press conference including the source of the device, who was using it and which department installed it."
Patino held talks with Foreign Secretary William Hague on the situation of Assange, who has been in the embassy for more than a year, but no agreement has been reached.
Ecuador has granted the WikiLeaks founder asylum, as he seeks to avoid extradition to Sweden on sex offence allegations.