Look up 'girl power' in the dictionary and you'll probably find a picture of Finnish pole dancer Oona Kivelä.
Showcasing her impressive fitness and strength, Kivelä moves through 24 challenging moves with such grace and poise that HuffPost UK Lifestyle are considering taking up pole dancing.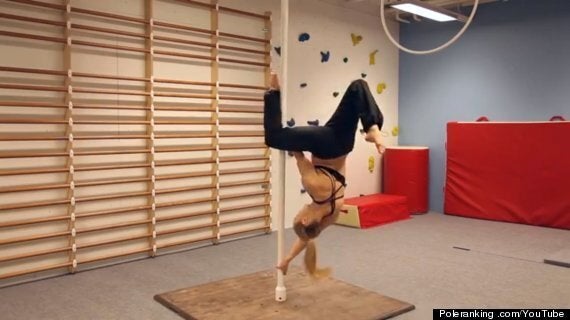 HuffPost UK Lifestyle wanted to find out the benefits of pole dancing, so we spoke to pole dancing teacher Goddess Star Monroe about the benefits of the -- sometimes controversial -- sport.
"Pole dancing improved my fitness so much. Since I started 12 years ago, my body shape has changed and my upper body is much stronger," she says.
As well as practising regularly on the pole, Goddess maintains her fitness by visiting the gym, using kettlebells and through Pilates and yoga.
She has not just seen physical improvements through pole dancing.
"I feel strong inside and out," she says. "And that va va vooms my wellbeing. Conquering new moves and seeing improvement on the pole is so empowering!"
"And not to mention it's fun!"
She says she also feels confident as a woman: "I have met so many amazing women through pole dancing, as well as starting started new and exciting ventures."
Goddess now works as a leading empowerment expert for women — a published author, motivational speaker, entrepreneur & mentor.