 AP
Two countries have offered asylum to fugitive Edward Snowden, who is still holed up at Moscow Airport.
Venezuela said it would be prepared to accept an application from the former CIA analyst, who is wanted by the United States after leaking details of its controversial surveillance programme.
Snowden may also have the option of Nicaragua, after its President said an offer would be made "if circumstances permit".
Maduro chose parade for #Venezuela's Independence Day to make offer to #Snowden to come to "fatherland of (Simon) Bolivar & (Hugo) Chavez"

— Jon Williams (@WilliamsJon) July 6, 2013
But even if he accepts one of the offers, getting there will be tricky - because using European airspace could be problematic, and it is likely that any flight would need to stopover in another country.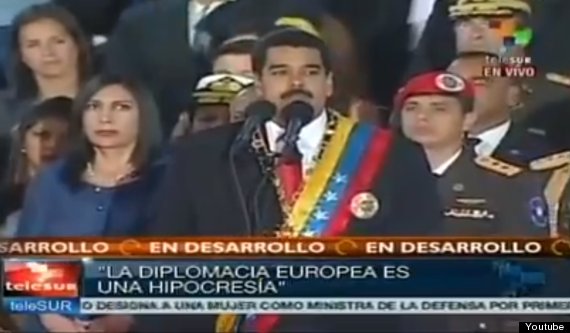 President Maduro makes his offer on Venezuela's Independence Day
Venezuela's new President, Nicolas Maduro, made his offer in a speech on Venezuela's Independence Day, the BBC reported.
"As head of state and government of the Bolivarian Republic of Venezuela I have decided to offer humanitarian asylum to the young US citizen Edward Snowden so he can come to the fatherland of Bolivar and Chavez to live away from the imperial North American persecution," he said.
He added: "He is a young man who has told the truth, in the spirit of rebellion, about the United States spying on the whole world," the New York Times reported.
According to the AFP news agency, Ortega confirmed Snowden's application to Nicaragua.
He was quoted as saying: "We are open, respectful of the right to asylum, and it is clear that if circumstances permit it, we would receive Snowden with pleasure and give him asylum here in Nicaragua."
Previously, Bolivia's presidential plane was barred from European airspace - apparently because it might have Snowden board.
The country had previously suggested it might accept his asylum request.
Unlike Snowden, the US would never, ever align itself with imperfect countries to promote its interests http://t.co/NR9GgftMiB

— Glenn Greenwald (@ggreenwald) July 6, 2013
Snowden is responsible for one of the biggest leaks in US history, with clasified details of the Prism spying programme handed to newspapers including the Guardian.
It revealed the scale of snooping by the National Security Agency.
On Friday, Wikileaks claimed Snowden had applied to a further six countries for asylum, but refused to name them.
Edward #Snowden has applied to another six countries for asylum. They will not be named at this time due to attempted US interference.

— WikiLeaks (@wikileaks) July 5, 2013
Bookmaker William Hill slashed its odds on Nicaragua to be Snowden's location on January 1, 2014, from 50/1 to 8/1, with Venezuela at 9/4 second favourite.
But Hill's still has the USA as his most likely destination.