Abu Qatada has arrived in Jordan after finally being deported from Britain in the early hours of Sunday morning.
The news, ending a 10-year debacle that cost taxpayers £1.7m, was welcomed by Prime Minister David Cameron and Home Secretary Theresa May, who had waged a personal battle with the cleric to kick him out.
The hate preacher's plane flew out of RAF Northolt in West London at 2.45am.
It comes after Jordan ratified a treaty with the UK that would prevent Qatada being tortured when he returns to face justice. Qatada's plane takes off from RAF Northolt
May immediately pledged to review Britain's deportation laws.
She said: "I am glad that this government's determination to see him on a plane has been vindicated and that we have at last achieved what previous governments, Parliament and the British public have long called for.
"This dangerous man has now been removed from our shores to face the courts in his own country.
"I am also clear that we need to make sense of our human rights laws and remove the many layers of appeals available to foreign nationals we want to deport.
"We are taking steps - including through the new Immigration Bill - to put this right."
Following numerous courtroom battles, it was the treaty signed between the UK and Jordan that finally secured Qatada's departure, giving the radical preacher the assurances he needed to leave his taxpayer-funded home behind.
Deporting Abu Qatada was a priority for this govt,there was a clear plan+a right and stubborn refusal to bow to what many thought inevitable

— David Cameron (@David_Cameron) July 7, 2013
The agreement, announced by the Home Secretary earlier this year, aimed to allay fears that evidence extracted through torture will be used against the father of five at a retrial.
In a shock decision, Qatada pledged in May to leave Britain - with his family in tow - if and when the treaty was fully ratified, a process that to the relief of many, concluded earlier this week.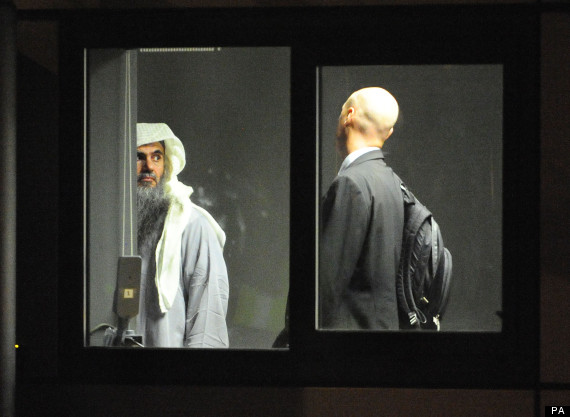 Qatada prepares to fly out of Britain
MP Keith Vaz, chairman of the Home Affairs Select Committee, said: "Only 446 days after the Home Secretary said Abu Qatada would be on a plane shortly, he has finally reached the end of the runway.
"In the end, it was the king of Jordan who secured his departure by agreeing to this treaty.
"The Home Secretary's legal advisers will have questions to answer as to why they didn't conceive of this scheme earlier which would have prevented a cost to the taxpayer of £1.7 million."
Once dubbed Osama bin Laden's right-hand man in Europe, Qatada spent his final months in the UK in Belmarsh prison, after breaching a bail condition which restricted use of mobile phones and other communication devices.
The Government has been trying to deport him to Jordan, where he was convicted of terror charges in his absence in 1999, for about eight years.
But Qatada - who has praised the September 11 terror attacks - repeatedly used human rights laws to avoid removal.
This argument, originally rejected by British courts, was upheld by judges at the European Court of Human Rights in Strasbourg, forcing Mrs May to seek new legal guarantees from Jordan that his rights would not be breached.
A 24-page mutual legal assistance treaty was drawn up between the UK and Jordan, containing a key passage that states where there are "serious and credible allegations that a statement from a person has been obtained by torture" it will not be used in a court.
Qatada's lawyer Edward Fitzgerald QC then unexpectedly told the Special Immigration Appeals Commission (Siac) that his client was prepared to leave if the treaty was enshrined in law.
"There's never been a time in the last 12 years that Mr Othman (Abu Qatada) and his family could safely return to Jordan," he said.
"For a long period of time, he has made it clear that he wishes to leave lawfully."
Despite the reassurances, the immigration judges were not satisfied enough to release the cleric from Belmarsh Prison after they heard ''jihadist files'' were found on digital devices in his home.
A USB stick found in the home, understood to belong to Qatada's oldest son, contained videos made by the "media wing of al Qaida".
It was recently disclosed that the lengthy deportation fight has cost the taxpayer more than £1.7 million since 2005, including £647,658 for Qatada's legal aid costs and more than £1 million in Home Office costs for pursuing the case through the courts.
When Qatada returns to Jordan, it has been reported that he will be taken to the maximum security Muwaqqar prison in a military zone near the capital Amman.