The Duchess of Cornwall has revealed it is not just the nation waiting for the royal baby to be born as she joined the Queen at a festival celebrating her coronation.
As the best of British was showcased in the gardens of Buckingham Palace for the monarch, Camilla described how she was "excited" about the impending royal birth and eagerly awaiting a phone call.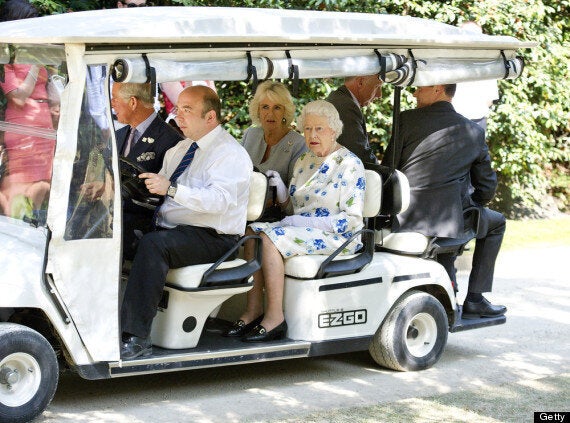 Queen Elizabeth II travels by golf cart with Camilla, Duchess of Cornwall (C) and Prince Charles, Prince of Wales (L) on the first day of the Coronation Festival
"The rumours are getting more frequent as to the arrival of the baby and each day that passes, we slash the prices even further," said William Hill spokesman Joe Crilly. "The odds suggest that Friday or Saturday are the days for the birth."
As the rumour mill ground, glorious summer sunshine, the Queen toured the Coronation Festival organised by the Royal Warrant Holders Association in the Palace's gardens.
The manicured lawns of the Queen's official residence were covered with pavilions and marquees featuring more than 200 brands which have supplied goods or services for at least five years to the Households of the Queen, the Duke of Edinburgh or the Prince of Wales.
And the monarch travelled around the sprawling site in an unusual form of royal travel - a golf buggy.
The electric cart is one of the three owned by the Royal Collection Trust and at one point Charles and Camilla joined her on the silent vehicle.
Around 60,000 visitors are expected to attend the four-day event displaying British "innovation, excellence and industry".
As Camilla toured the site, she met Andrew Love, deputy chairman of the Ritz, and his wife Amanda.
Mrs Love asked the Duchess: "I bet you are on tenterhooks waiting for the birth," and she replied: "Yes we are very excited. Immensely looking forward to it and waiting for the phone call."
When Charles was shown a range of commemorative Caverswall china to mark the imminent birth of the royal baby, the Prince told Trevor Johnson, the firm's managing director: "Ah, you're doing that. Well, it won't be long now."
The Festival had relatively little baby-related paraphernalia. However one of the few things on show were the baby announcement cards made by stationer Wren Press, which made the invitations for Charles and Camilla's wedding.
Elgin Loane, the chairman, said he hoped the firm might get the job of making the cards for the Duke and Duchess of Cambridge's baby.
He said: "Hopefully we will be given the opportunity to at least put our foot forward, shall we say? The Royal Family do have them, but we are officially not able to say. Everything is confidential. But it would be fun."