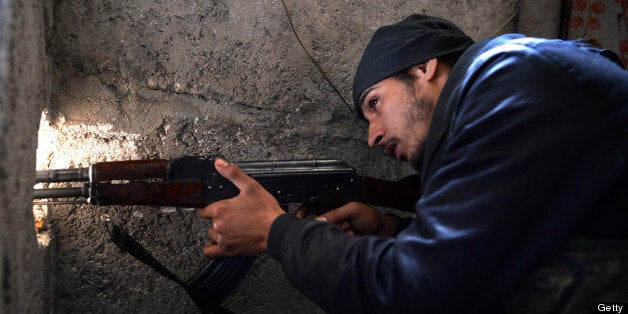 The government has said people should not worry that weapons delivered to the Syrian rebels would fall into the hands of extremists, as the Opposition movement has promised to give any guns back after civil war is over.
Yesterday MPs voted overwhelmingly in favour (only one MP voted against) a motion demanding that the Commons be given a vote before any arms are shipped to Syria.
The government has insisted that no decision has yet been taken as to whether it wants to deliver weapons to the region, but a significant proportion of MPs are deeply concerned that an such move could escalate the already bloody conflict.
Foreign Office minister Alistair Burt sought to reassure MPs yesterday that the British government was not getting into bed with the extremist Islamist element within the anti-Assad forces.
"The Syrian National Coalition declared its commitment to democracy, ethnic and religious pluralism, and the rule of law, and it rejected discrimination and extremism," he said.
"It also declared that it would guard against the proliferation of any supplied lethal equipment and would return such equipment at the end of the conflict."
Tory MP John Baron, the member of the foreign affairs committee who triggered the debate, said there had been "no answer" to the charge that "more weapons would mean more violence and more suffering".
And he said it would be "nigh on impossible" to track and trace weapons to stop them falling into the hands of extremists on the rebel side.
Baron warned that pouring more weapons into the conflict zone would add "more fuel to the flames" and risked extending the conflict beyond Syria's borders.
But former Tory foreign secretary Sir Malcolm Rifkind told the Commons the Free Syrian army, the Syrian secular forces and moderate Islamic forces desperately needed weapons as they were the only ones who did not have enough.
"This time next year, 200,000 men, women and children will have been slaughtered in Homs, Aleppo and the various other centres that the Assad regime is trying to recontrol," he warned.