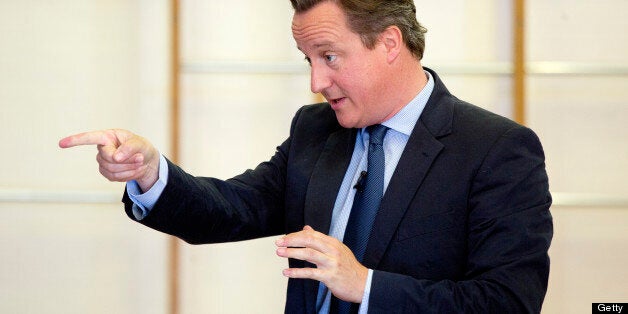 Tories should consider cutting fuel duty and boosting the minimum wage in a bid to pick up working class votes in the North, according to a new campaign group.
The suggestions are made in a pamphlet launching the independent Renewal group, as the party gears up for the 2015 general election
The document warns that Conservatives are still performing "indifferently" outside the South East, with around half of parliamentary seats in the Midlands, a third in the North and just one in Scotland.
The picture is even worse in urban areas, while only 16% of non-white voters backed the party in 2010, compared with 68% who supported Labour.
Backbenchers have voiced concerns that the image of David Cameron and George Osborne as "Tory toffs" could hurt the party in 2015. And Renewal founder David Skelton - a former parliamentary candidate in North Durham - said the Conservatives had to change to win an overall majority.
He said the group would be studying policies such as:
:: Increasing the national minimum wage by lowering taxes for employers so that companies would not be forced to cut jobs.
:: Cutting the price of petrol by freezing fuel duty and if possible cutting it for the lifetime of this parliament.
:: Abolishing the EU's renewable energy target in order to reduce the cost of gas and electricity bills.
:: Appointing a Minister for Consumers to clamp down on utility companies, train and mobile phone companies.
:: Transferring planning powers from local authority bureaucrats to local communities to encourage the building of good quality housing for young people.
Mr Skelton also suggested trade union members should be able to allocate their political fees to whichever party they want.
"The Conservatives have already changed under David Cameron's leadership and his changes were enough to give the party its biggest swing since 1931, but not quite enough to push it over the line to an overall majority," he said. "The party must go further and send out a clear message that it stands up for the many not the privileged few."
The pamphlet, Access all areas, includes contributions from Tory ministers Greg Clark and Matthew Hancock as well as MPs Robert Halfon, Douglas Carswell, Stephen Crabb and Laura Sandys.
In a foreword to the document, Transport Secretary Patrick McLoughlin insisted there should be no such thing as a "traditional Conservative background".
"Our party should give no quarter to media stereotypes of leafy suburbs, gravel drives and the 'Tory heartland'," he said.
"Ours is a party for all parts of Britain and for all types of people, brought together not by background or wealth but by a shared understanding of the power of freedom, the potential of people and the great things that come from effort, enterprise and ambition.
"To win outright we must not only persuade people already drawn to our cause. We must win the active support of those who share our beliefs but until now have not been drawn to our party.
"People in cities and minority groups, away from the south-east of England. People who have been let down most of all by the bloated state and debts Labour left behind."
The group will be launched tonight with a speech from Communities Secretary Eric Pickles.