George Zimmerman, the man acquitted of murdering teenager Trayvon Martin, is to have his gun returned to him, the same weapon used to kill the unarmed boy.
After the verdict was announced, Judge Debra Nelson said all evidence in the case will be released and Zimmerman's ankle monitor would be removed.
The case has split the American public, in a manner unseen since the OJ Simpson murder trial.
Under Florida law, Zimmerman will get back this gun which he used to kill Trayvon Martin pic.twitter.com/gAk3uZ7ZuO

— Judd Legum (@JuddLegum) July 14, 2013
After deliberating for more than 16 hours, a jury of six women on Saturday evening found George Zimmerman not guilty.
In the wake of the verdict, demonstrators reportedly shut down part of a busy motorway in Los Angeles on Sunday night.
Protesters told NBC LA that police fired rubber bullets in order to disperse the crowd and ended up arresting at least one person on suspicion of throwing rocks and bottles at an officer.
In New York, hundreds of protesters flooded Times Square, having marched south on Broadway from Union Square, many carrying signs in support of the slain teenager. At times, the crowd could be heard chanting "No Justice. No Peace."
The verdict came after four weeks of testimony from more than a dozen witnesses.
Anti-racism groups are now considering pursuing civil charges. "
We are outraged and heartbroken," National Association for the Advancement of Colored People president Benjamin Jealous said in a statement. "We will pursue civil rights charges with the Department of Justice, we will continue to fight for the removal of Stand Your Ground laws in every state, and we will not rest until racial profiling in all its forms is outlawed."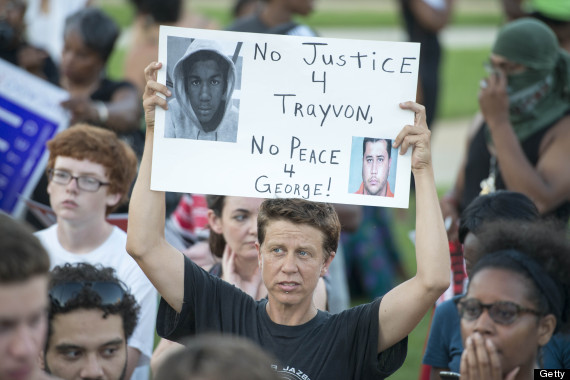 Hundreds rallied in support of shooting victim Trayvon Martin at Howard University in Washington
Dan Gross, president of the Brady Campaign to Prevent Gun Violence called the verdict "part of a tragic event that could have easily been prevented."
Gross said, "There is sharp disagreement over the verdict, but there can be no disagreement over the reason why Trayvon Martin is dead.
"George Zimmerman had a gun that night, and the state of Florida allowed him to carry it virtually anywhere despite a violent history. Virtually anybody roaming our neighborhoods with hidden handguns is the gun lobby's vision, but it is not the vision of the rest of the American public, truly committed to safer communities.
"We will work as long, and as hard as it takes to prevent more tragedies like Trayvon Martin's. We recognize, at the end of the day, this is an enormous tragedy and a young man lost his life. Our sympathies continue to go out to Trayvon's family."
The Brady Campaign has been one of the leaders in fighting against "Stand Your Ground" or so called, "shoot first" laws like the one in Florida.