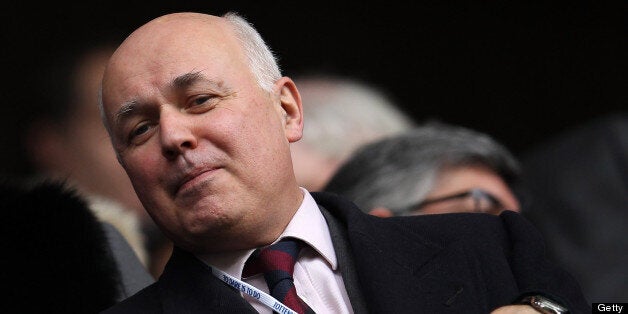 Iain Duncan Smith has dismissed an official rebuke for making misleading claims about the effectiveness of his benefit reforms - as he "believes" he was right and the UK Statistics Authority (UKSA) was wrong.
In May, the Work and Pensions Secretary said the coalition's controversial benefits cap, which comes into force today, had already caused 8,000 people to move into jobs.
But the UKSA wrote to Duncan Smith to tell him the claim was "unsupported by the official statistics" as there was no evidence those who had gone into work had done so as a direct result of the cap.
Defending himself on BBC Radio 4's Today programme this morning, Duncan Smith said: "What they said was you can't absolutely prove that those two things are connected."
Challenged over the fact his statement was not supported by officials statistics published by his own department, Duncan Smith said: "Yes, but by the way, you can't disprove what I said either."
"I believe that this to be right, I believe that we are already seeing people going back to work who were not going to go back to work," he said.
"I believe that this will show, as we move forward ,that people who were not seeking work are now seeking work."
The work and pension's secretary was mocked by Labour's shadow minister for disabled people, Anne McGuire, who tweeted that "I believe" was "a substitute for facts in IDS world".
Duncan Smith spent Monday morning touring TV and radio studios to defend the new benefits cap of £500 a week which is being rolled out across Britain.
He told BBC Breakfast that a "very, very significant number" of people had gone out to work in affected households within the four London boroughs where the cap has already been implemented.
"A very, very significant number have gone out to work; in fact, what the jobcentre staff have told us as we have been going round is that they have seen a genuine increase since they have alerted people to the fact that they are likely to be in the cap," he said.
He added: "This is both about saving money and, more particularly, about changing a culture that had left families, particularly large families, finding it easy and a reality for their lives to stay out of work on taxpayers' benefits."
Duncan Smith said the "greatest effect" of the benefits cap would be in London and the South East.
"The key principle behind this all over the country is that those who work, those who are trying to do the best in their households, do not see others who are down the road, who are on benefits, on welfare, actually getting more than they do," he said.
Couples and lone parents will not receive more than £500 a week under the new cap, with single people limited to £350 a week.