The scenes reminiscent of the 2011 protests when tens of thousands took to the streets to protest the intention of Vladimir Putin to seek the nomination for president, again. Expat Russians have also organised demos across the globe, including inNew York, London and Berlin.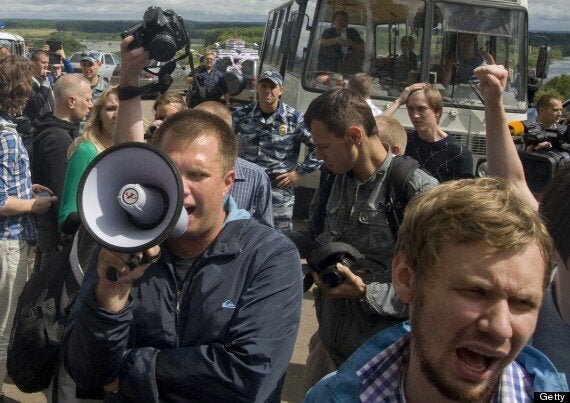 Supporters of Russia's top opposition leader Alexei Navalny protest in the central Kirov
Navanly's campaign says if he is released he will continue to run for Moscow mayor, which the party withdrew from this morning after he was jailed.
Meanwhile, as the legal wrangling continued, demonstrations did not cease in Moscow.
Activists have held 25 smaller rallies across Russia's nine time zones, from Kaliningrad to Vladivostok, to show their outrage at the five-year sentence and heavy fine handed to Navalny on charges of embezzlement, charges which they suspect are politically motivated.
Riot police and Interior Ministry troops arrested around 60 opposition activists and closed off Manezh Square and Red Square in the capital.
The number quoted as attending the unsanctioned demo varied, officials said 2,500, activists said around 5,000.
More than 30 opposition activists reportedly were detained in St Petersburg.
"Our goal is to show support to Alexei and to everyone who is protesting today in Moscow at a great risk to their freedom and health as proven by some of the previous demonstrations where authorities reacted quite violently," Mikhail Dubov told HuffPost at the small London demo, outside the Russian Embassy in Bayswater.
"Unfortunately, we can't hope that our protest here will actually help change anything of importance in Russia. It is just a morale boost project.
"Time and time again we hear from people in jail that this support is very important to them, it helps them keep fighting." Alexei Navalny embraces his wife Yulia at his trial in Kirov
"The protest in Moscow is a very different creature. If enough people show up there, anything can happen," he continued.
"Personally, I am afraid that the only result will be a lot of my friends behind bars."
Navalny, who tweeted throughout his trial and posted pictures of the judge, appeared to tweet again in the wake of the protests.
Reports suggested he had handed control of the Twitter account to his wife, Yulia.
The jailing of Navalny, the social media savvy whistleblower who uncovered dozens of cases of corruption from local politicians to the Kremlin, prompted condemnation across the world.
"The contrast is stark, isn't it?" said Rachel Denber, deputy Europe and Central Asia director for Human Rights Watch.
"Of course, there were other cases that made that parallel obvious. On the day before Snowden met human rights groups in Moscow airport, Russia found Sergei Magnitsky guilty of tax fraud, after he died. And Magnitsky was also a whistleblower. It's certainly a dark day today.
"We knew that it was going to happen, but that doesn't prepare you for the shock of seeing him led away in handcuffs."
BACKGROUND

Aleksei Navalny is a popular Russian blogger and anti-corruption campaigner. Over the years he has exposed violations by several senior political figures from the ruling Yedinaya Rossiya party and from among those close to the Kremlin, and revealed a number of large-scale embezzlement schemes, including alleged high-level corruption involving major Russian state-owned oil companies.

He has actively campaigned against election fraud and the re-election of President Vladimir Putin and the United Russia party, and has been a key figure in several mass street protests in recent years.

The prosecution alleged that in 2009, when Navalny was an advisor to the Kirov Region Governor, he abused his position to impose a deal on the state-owned company Kirovles. The alleged deal resulted in an unfavourable contract being signed - at a loss to the state - to supply timber through a commercial intermediary, a company headed by Navalny's old acquaintance Petr Ofitserov.

Aleksei Navalny and Petr Ofitserov were charged - and have now been found guilty - of "particularly grievous" embezzlement on the grounds that they defrauded the state of in excess of RUB 16 million (£325,000) - the full estimated market value of the timber supplied. This charge ignores the sum of around RUB 14 million (£280,000) which Kirovles received from the intermediary for the timber it supplied.

The prosecution's key witness in the case was the former Director General of Kirovles, Vyacheslav Opalyov, who himself was convicted - and received a conditional sentence - in a separate trial under charges related to the same alleged crime.

The judge declined the defence's request that an independent expert be allowed to testify in court on whether the deal between Kirovles and the intermediary company headed by Petr Ofitserov was commercially viable or indeed an unfair deal at below market value.
Related