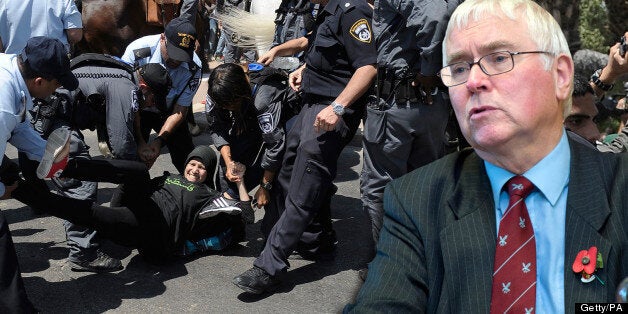 Lib Dem MP Sir Bob Russell has accused Israel of committing a "crime against humanity" for the planned eviction of thousands of Bedouins from the Negev desert.
"The removal of such a large number of humanity will only be undertaken at a point of a gun," he told the Commons on Thursday.
"If ethnic cleansing was going on anywhere else in the world, the world's leaders would be voicing outrage ... and it is the United States who allow this sort of thing to go on and have done since 1948."
He added: "President Obama has failed to ensure the ethnic cleansing does not take place by the Israelis, by the Israeli parliament, against the Bedouins."
And he said the British and international media should feel "shame" for failing to report "this crime against humanity".
The Israeli authorities insist the resettlement is needed to provide the Bedouins with previously denied basic public services. But the Bedouins argue the plan destroy their way of life.
Sir Bob's comments were supported by Conservative MP Bob Stewart. The former Army colonel told MPs: "It's disgraceful that there are two kinds of people in the West Bank, Israelis and others. This is appalling."
Amnesty International has also condemned Israel for the demolitions.
"The Israeli authorities must halt demolitions in these communities and change course completely to guarantee all citizens' right to adequate housing," said Philip Luther, Director of Amnesty International's Middle East and North Africa Programme.
"The Israeli government's Prawer-Begin plan would lead to the forced eviction of tens of thousands of Arab Bedouin citizens of Israel. The plan is inherently discriminatory, flies in the face of Israel's international obligations and cannot be accepted in any circumstances."
Related