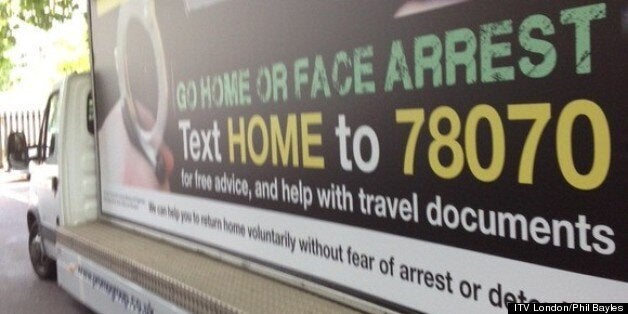 Vans with giant billboards featuring the slogan "go home or face arrest" will be driven around London this week in an attempt to persuade illegal immigrants to leave the country.
The Home Office pilot scheme will also see the message also displayed in leaflets, posters and messages in local newspapers.
Over the next week, two vans will be driven around Hounslow, Barking & Dagenham, Ealing, Barnet, Brent and Redbridge and will show residents how many illegal migrants have recently been arrested in their area.
Immigration Minister Mark Harper said: "We are making it more difficult for people to live and work in the UK illegally. Every single day our enforcement officers are arresting, detaining and removing people with no right to be in the UK.
"But there is an alternative to being led away in handcuffs. Help and advice can be provided to those who cooperate and return home voluntarily.
"This pilot is just another part of the reforms of the immigration system that have cut out abuse and seen net migration drop to its lowest levels in nearly a decade.
"The Immigration Bill being introduced later this year will build on this work by restricting illegal migrants' access to benefits and services."
However Don Flynn, the director of the Migrants' Rights Network, said it was a "shocking" scheme.
"The Home Office does not appear to have given a moment's consideration to the impact it will have on local community relations," he said.
"This has huge potential to ramp up mistrust and suspicion in local areas with damage being inflicted on a wide range of minority ethnic groups.
"Public accusations being flung around people who might be irregular migrants is dog whistle politics at its very worst. This is a truly shocking initiative."
And Nigel Farage attacked the Home Office plan from the right: "Government mobile billboards telling illegal immigrants they will be arrested is gesture politics aimed at trying to shoot the UKIP fox," he said on Facebook.
"The government have no idea how many illegal immigrants are in this country thus no idea what percentage have been arrested."
The message on the vans will read:
In the UK illegally? Go home or face arrest. Text HOME to 78070 for free advice, and help with travel documents. We can help you return home voluntarily without fear of arrest or detention.
Last week Romanian gypsies in London's West End, who had been begging and sleeping rough on the grass under Marble Arch, were the targets of a dawn raid.
More than 60 Roma have been camped out along Park Lane, opposite some of London's most expensive hotels and properties, for the last few weeks. Police pounced at 4am, backed by border officials, Romanian authorities and homelessness workers.
Former Lib Dem minister Sarah Teather recently attacked the government's approach to immigration as "unworkable, unjust, and nakedly political".
Teather told The Guardian she wanted to expose the fact the internal-government committee created to look at immigration reform was called the 'hostile environment working group' - designed to make Britain unwelcoming to immigrants.