He wrote: "I'm delighted for the Duke and Duchess now their son has been born.
"The whole country will celebrate. They'll make wonderful parents."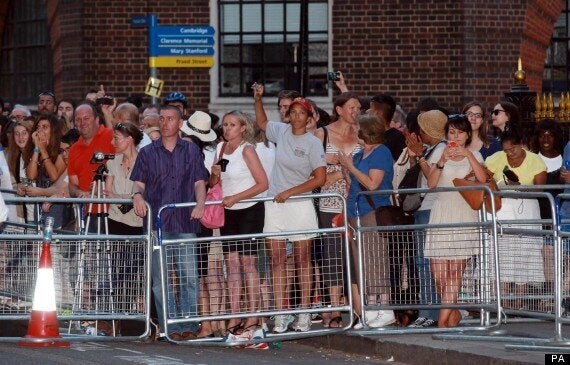 Crowds have gathered outside the Lindo wing, in west London, to celebrate the news
Boris Johnson, the Mayor of London, also waded in to congratulate the royal couple.
Foreign Secretary William Hague added: "My warmest congratulations to the Duke and Duchess of Cambridge.
"Wonderful news and a happy moment for our country and Overseas Territories."
American president Barack Obama and his wife Michelle, who has developed a close relationship with the Queen, also spoke of their joy at the birth.
The US leader said: "Michelle and I are so pleased to congratulate the Duke and Duchess of Cambridge on the joyous occasion of the birth of their first child.
"We wish them all the happiness and blessings parenthood brings. The child enters the world at a time of promise and opportunity for our two nations.
"Given the special relationship between us, the American people are pleased to join with the people of the United Kingdom as they celebrate the birth of the young prince."
Canada's prime minister Stephen Harper sent his "heartfelt congratulations" to the couple and the royal family on behalf of all Canadians.
Outgoing Chief Rabbi Lord Sacks tweeted "Mazal Tov" to the happy couple.
"We wish them blessings, good health, and joy in becoming parents," he added.
Meanwhile Oliver Hicks, 31, a close friend of Prince William, said he was thrilled to hear the "fantastic" announcement.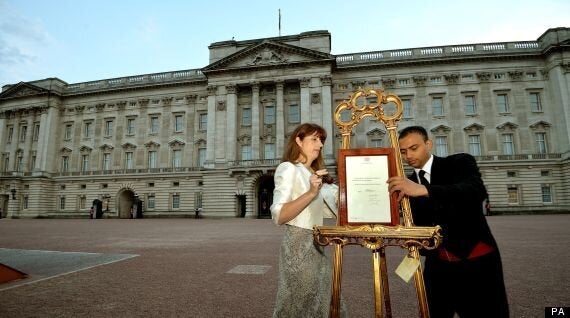 The birth was announced outside Buckingham Palace
The adventurer said he had been hoping for news since completing the first recorded kayak crossing of the North Sea between Britain and Norway, on Friday.
"It's just such fantastic news," he said.
"Presumably it's also much easier that it's a boy. I hope I'll get to see him soon. I can't wait to see all of them."
The Archbishop of Canterbury, the Most Rev Justin Welby, was one of the first to speak of his joy on Twitter.
"Delighted for the Duke and Duchess of Cambridge as they welcome their baby boy. May God bless them all with love, health and happiness," he said.
"Today we give thanks and praise to Almighty God for the arrival of the Royal baby boy," he said.
" I send my warmest congratulations to the Duke and Duchess of Cambridge and also my prayers for them at this wonderful time. Katonda Yebazibwe: God be praised."
Even former Spice Girl Emma Bunton expressed her excitement - echoing a sentiment felt among the hordes gathered outside Buckingham Palace.
"It's a boy!!! Special times ahead for Kate and William," she said.