Britain has sweltered as temperatures soared to a seven-year high, but the heatwave is set to give way to heavy downpours, forecasters have warned.
The thermometer reached 33.5C (92.3F) at Heathrow and Northolt, London, the highest temperature recorded this year, and the hottest day since July 20, 2006.
The new high comes as the UK experiences its longest prolonged heatwave in seven years, although temperatures dipped slightly over the weekend.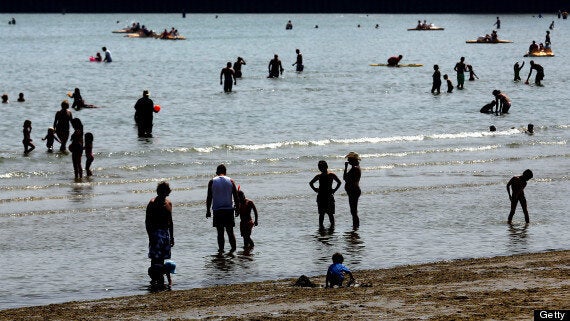 People paddle in the sea in Weymouth
But the weather is set to break, with isolated showers developing this afternoon and more widespread thunderstorms tomorrow. Some areas could see heavy rain, lightning and even hail.
The Met Office has issued a rain warning for tomorrow for most of England and all of Wales, with localised flooding possible in places.
Chris Burton, forecaster with Meteogroup, the weather division of the Press Association, said: "There's a chance of one or two isolated showers developing this afternoon.
"Overnight, thunderstorms are becoming more widespread and continuing into tomorrow with locally heavy rain."
"There's potential for some localised flooding in areas that do see these heavy bursts of rain."
Although temperatures will be slightly lower than recent highs, it will remain warm and humid over the next few days, with temperatures reaching 27C to 28C (80F to 82F) in London and in the mid 20s elsewhere, he said.
"There will be a mixture of warm spells of sunshine and an increased risk of showers. There will be a lot more rain around, and it will be humid."
The hot weather has taken its toll on the UK in recent weeks, with grass fires in London, mountain blazes in the Welsh valleys and forest fires in Fife, Scotland. Hundreds of premature deaths are believed to have been caused by the heatwave.
Wildlife experts are warning of the risk of fires in important landscapes that are in a "tinder-box" condition after days of hot, dry weather.
Devon Wildlife Trust has teamed up with Devon & Somerset Fire & Rescue Service to urge people to take care to avoid fires in the region, which can devastate habitats that are key to rare species as well pose dangers to people and farmland.
Members of the public are being urged not to drop cigarettes, use barbecues or leave glass or bottles in the countryside, all of which can start fires, and to report any blaze they see to the emergency services immediately.
Andy Page, chief forecaster at the Met Office said: "The UK has seen a particularly dry warm spell of late but this week will see a big change for many.
"From Tuesday we will see more widespread showers and thunderstorms across many parts. The public are advised to keep up to date with our forecasts and warnings."
The Met Office warned that alongside potentially significant rainfalls totals, there could also be "large hail from these widespread and energetic storms".