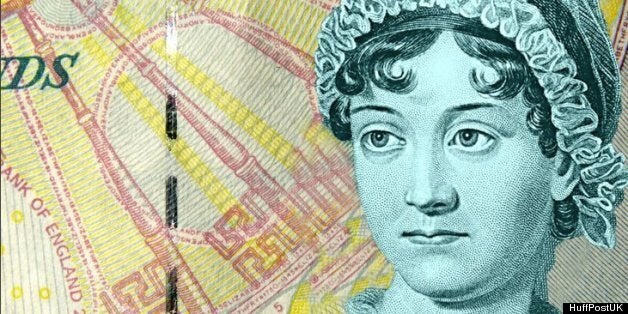 Money "is the best recipe for happiness I ever heard of," says Mary Crawford in Jane Austen's Mansfield Park. Now Austen herself is the source of happiness that money can't buy for feminist campaigners, after the Bank of England announced that Austen would appear on ten pound notes from 2017.
"I read this week that Jane Austen is 'quietly waiting in the wings' to appear on a banknote one day," Miliband said last month.
"But 100 years on from the great struggle to give women the right to vote, women shouldn't be waiting quietly in the wings for anything. This is an important symbol of the kind of country we are. Why don't we have one of our great women scientists like Elizabeth Garrett Anderson and a suffragette like Emmeline Pankhurst on our banknotes?"
The Bank will also review the process by which personalities are selected to grace British banknotes.
Feminist campaigner Caroline Criado-Perez launched her campaign after the Bank of England revealed that social reformer, Elizabeth Fry - the only female historical figure on British banknotes, would be replaced with Winston Churchill.
The remaining money will now go to the Fawcett Society, Rape Crisis and Women's Aid.
"This is a brilliant day for women and a fantastic one for people power," Criado-Perez said.
"Without this campaign, without the 35,000 people who signed our Change.org petition, the Bank of England would have unthinkingly airbrushed women out of history.
"We warmly welcome this move from the Bank and thank them for listening to us and taking such positive and emphatic steps to address our concerns; to hear Jane Austen confirmed is fantastic, but to hear the process will be comprehensively reviewed is even better."
Stella Creasy, the Walthamstow MP who helped organise a letter from 46 Labour MPs to David Cameron in support of Caroline's campaign, said: "It's great to hear that the Bank of England has listened to concerns on this, and the message removing women from our currency sends, and has acted to ensure we celebrate the contribution women have made to our nation in this way, as well reviewing the original decision-making process.
"Britain has many women in its history of whom we should be proud, and today's decision is part of creating a culture of expectation that there will be many more in our future too.
"We will continue working with all those committed to ensuring every member of our society is supported to achieve their potential - above all congratulations to Caroline Criado-Perez who has led this campaign and to all those who have joined us in the call for change."
Louise Whitfield, a partner at law firm Deighton Pierce Glynn who were advising Caroline on the legal aspect of the campaign said: "This is a great result for Caroline's fantastic campaign, but it was very disappointing that it needed the threat of litigation to secure a sensible response from the Bank and that they refused to accept that who appears on banknotes was highly relevant to gender equality: this was blindingly obvious and shouldn't have needed a lawyer to point it out.
"It is clear we need a statutory equality duty and the ability to enforce it in situations such as this."
We originally attributed the Jane Austen quote to Fanny Price of Mansfield Park. It is actually Mary Crawford.
Related