Fictional DJ Alan Partridge told fans: "This film is my love letter to Norwich" as he premiered his new movie in his favourite city today.
The Steve Coogan comedy creation opted to hold the red carpet event in Norfolk following a Twitter campaign dubbed Anglia Square Not Leicester Square.
Speaking outside the Hollywood Cinema ahead of the Alpha Papa showing, he said he was proud of Norwich but his love for the city was not in "an Operation Yewtree way". Alan Partridge arrives at the World Premiere of 'Alpha Papa'
As he appeared in character in the city's unloved 1960s Anglia Square shopping precinct, he added: "The people have spoken in the biggest petition since the clinic started handing out johnnies to 13-year-olds.
"£4 million has gone on this film which could have gone to a brand new anti-natal unit or Help for Heroes but we spent it on this film."
Partridge added that he had chosen Norwich because he trusted Norfolk Police to protect him from a sniper while on the red carpet.
Partridge - who once said "Go to London, I guarantee you'll either be mugged or not appreciated" - will later fly by helicopter to the capital's Leicester Square for a second showing.
Before the premiere, 1980s songs including hits by Abba played over the Tannoy - or "generic speaker system" as Partridge would insist on calling it. Alan Partridge signs the top of an adoring fan
Partridge once famously took a date to an owl sanctuary in Norfolk and Rob Wilkes and Rafiq Turnbull, who organised the social media campaign, sold T-shirts outside the cinema to raise funds for the Wing And A Prayer Wild Bird And Owl Haven in Stratton Strawless.
Mr Wilkes said: "It all started online on a Wednesday night and became this organic beast that everybody else has capitalised on.
"VisitNorwich told us they've had a massive increase in people contacting them and wanting to visit the city on the back of this campaign. It's a bit tongue-in-cheek but it's a good thing for Norwich."
Before the premiere, Partridge, who was wearing a sky-blue suit by tailor Gresham Blake, spoke to the press.
Asked what Norwich had that London did not, he said: "A lot of flat landscape, the Wash, reclaimed land - these are things that London doesn't have and will never have.
"My favourite location during filming was Cromer Pier. I've been to Blackpool Pier, Brighton Pier, Southend Pier - but Cromer is quite simply the best pier."
More than 1,000 people turned up to watch him arrive.
Among them was Andy O'Neill, 29, from Derby, who carried a sign reading "We drove 171 miles to meet the legend Partridge".
He said: "I just find him very funny and liked the fact he was holding this event in Norwich.
"Norwich seems nice - it was definitely worth the journey."
Local celebrities including former Norwich City footballers Iwan Roberts, Craig Fleming and Darren Eadie were among the guests.
Fans dressed in sports casual wear for the event. One carried "Alan's big plate" while two female students held a sign reading "I love you... in a way".
Alpha Papa director Declan Lowey said: "I don't think you get this sort of warmth in Leicester Square - there's a lot of love for Alan.
"He is a positive voice for Norfolk and I think people here get it.
"The film offers a lot of fun, a lot of danger and some heavy kissing."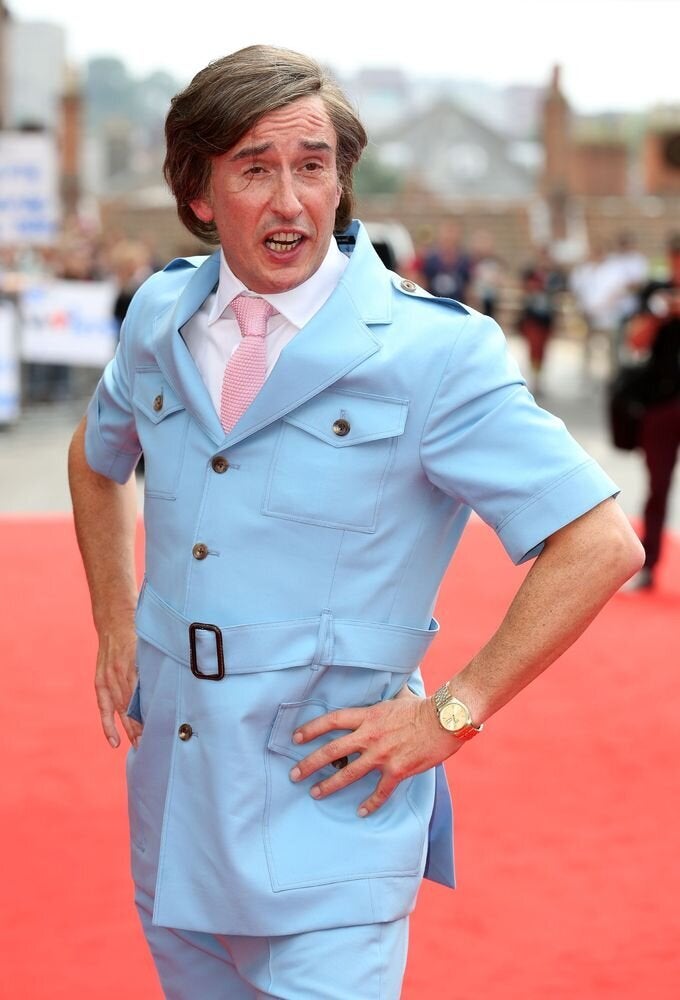 Alan Partridge Film Premiere
Popular in the Community