Alan Partridge: Alpha Papa

The weight of expectation around the Alan Partridge Movie, or 'Alan Partridge: Alpha Papa' to give it its official name, has been so heavy, enduring and demanding, that Steve Coogan and Armando Iannucci could be forgiven for deciding it was too great a burden to fulfil and putting their pens down without trying. As Coogan told one of his crew during the long days of production, "If this is bad, I'll be crucified."
For sure, after two decades cutting a dash with his unique showbusiness status, the ghastly yet somehow deeply loveable figure of Alan Partridge has an almighty legacy to play with. Alan Partridge arrives at the World Premiere of 'Alpha Papa'
But one of the aspects of his remarkably resurgent career has been his flexibility, both in mantle and media - from original sports reporter radio incarnation, through Butlins-jacketed TV chatshow host (until a guest was unfortunately shot and brought this era to an abrupt end), radio presenter - and most recently, on the internet as a travel guide around his beloved Norwich.
So far, it's been a rollercoaster of a career, the trough being, I think, the sad sight of him walking to a motorway garage for company during the 'quiet years'.
'Alpha Papa' finds him, if not quite perched on the zenith of world adulation he is one day undoubtedly due, at least back on safe professional territory, cheerily installed in the mid-morning slot on North Norfolk Digital, regaling listeners with such musings as the best 'monger' (fish? iron? war?)' and introducing 'long-playing cocaine enthusiasts Fleetwood Mac'.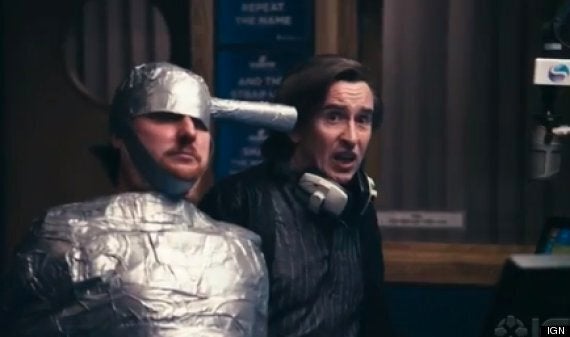 I could sit and listen to Alan Partridge chirping merrily all day but, this being The Movie, it's time instead for The Plot.
It's not an over-complicated one… There's been a management takeover of the station, resulting in the obligatory ruthless personnel cuts. Alan's oleaginous appearance during a boardroom meeting results in his night-shift peer Pat Farrell (Colm Meaney) being sent to pack his box, something that makes Alan uneasy, not morally obviously, just at the risk of being caught out.
Events take a turn when Pat's dismay turns to anger and, rifle in hand, he holds the station to siege. Suddenly, we're in the midst of a police-swooping, media-frenzy situation, and right at the centre of it all, in theory the one person who can save the day… you guessed it.
Father Ted veteran Declan Lowney's direction is deliberately messy, small-town, sometimes grainy. The script is for the most part as tight as any 30 minute episode, with only the occasional foray into slap-stick – I'm not sure Alan HAD to lose his trousers (yes, and knickers) in escaping through an office window, straight into the waiting lenses of the Norfolk paparazzi.
But the hard work of Coogan and crew (who were apparently writing new lines furiously each evening during production) has paid off. The story is just big enough to justify the big screen transition, while small enough to allow for plenty of the Partridge-isms, eyes looking nervously to the side, that have brought us here in the first place.
Devotees of Alan and his crew will be relieved to see that brooding acolyte Lynn (Felicity Montagu) has not been forgotten, in fact makes a centre-stage foray, complete with new hairdo. And sitting out the siege in a cupboard is another familiar face for TV fans.
At the centre of it all, Steve Coogan. If his turn in recent biopic 'The Look of Love' showed occasional signs of the Partridge trying to sneak out through the seams of Paul Raymond, here he has burst out in a character and quest suitably expanded for his move to the big screen. Alan Partridge signs the top of an adoring fan
There is a wonderful and telling moment, about halfway through the film - when the camera stays on Coogan's face as Alan frantically flicks through the TV channels, looking for coverage of the siege. As he desperately seeks himself in close up, we instead observe him through every range of emotion. It is a moment when Coogan's acting chops properly reveal themselves, and we get to enjoy, wince and cry for Alan Partridge in all his tragic, vulgar glory.
If any single moment were needed to vindicate the making of a film about a semi-successful broadcaster making a living and the oft-occasional faux pas in a provincial town, it is this. But there are many other delights. Steve Coogan can rest easy - his work is done. Plenty of cringeing to be done here, but no crucifixion.
'Alpha Papa' is in UK cinemas from 7 August. Watch the trailer below, plus pictures from the Norwich premiere...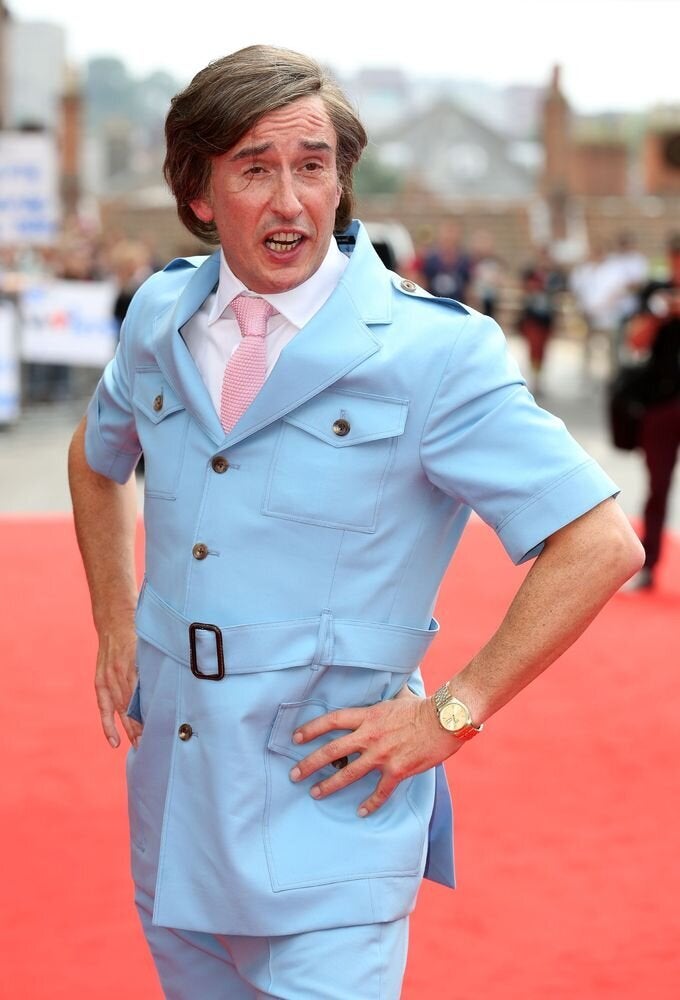 Alan Partridge Film Premiere