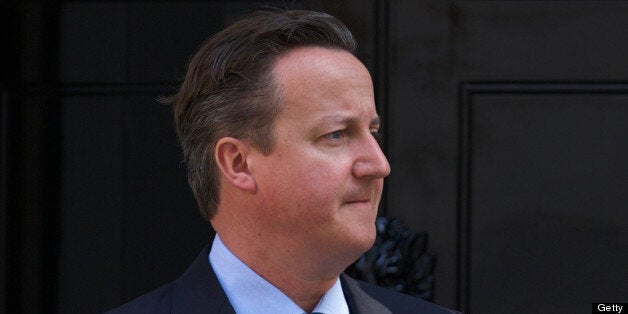 David Cameron has said he would like to see gay marriage "exported" around the world following the passage of the historic legislation in Britain last week.
The prime minister told a gathering of MPs and gay rights campaigners in Downing Street yesterday that Britain was now "the best place to be gay, lesbian or transgender anywhere in Europe".
"That is a great achievement. That's not my measure; that is an internationally recognised measure. But there's still a lot more work to be done," he said.
"There's a lot more work to be done as Britain in the Commonwealth, talking to our Commonwealth partners about decriminalising homosexuality in various countries.
"Many other countries are going to want to copy this. And, as you know, I talk about the global race, about how we've got to export more and sell more so I'm going to export the bill team. I think they can be part of this global race and take it around the world."
Cameron also said he was "personally proud" of the government's gay marriage Bill which became law in the face of fierce opposition from Tory MPs - the majority of whom voted against it.
He said: "I think I'm probably the only Conservative prime minister who's taken this step, but I'm very proud to have taken it. I think it's a really good step, and thank you for helping me to stick with the plan and get it done so quickly."
Although the right for same-sex couples to marry has been granted in a number of countries recently, including France and New Zealand, campaigners have warned that the advance in gay rights is not universal.
The Kaleidoscope Trust, which promotes gay rights internationally, warned that while gay marriage was a welcome step in the UK - LGBT people continue to suffer oppression in other countries.
Writing for The Huffington Post UK last week, Alistair Stewart, the assistant director of the Trust which boasts Commons Speaker John Bercow as its president, said as "champagne corks are popped in London and Paris" countless setbacks, reversals and outrages were happening elsewhere.
He said: "The achievement of equal marriage, parenting and adoption rights and full legal protection can actually impede the struggles in other parts of the world where the battles for LGBT people are about the most fundamental of human rights. 76 countries continue to criminalise 'homosexual conduct', punishable with prison sentences and hard labour. In five countries the death penalty still applies."
The Russian parliament recently passed legislation that effectively bans gay rights rallies. Last month a march descended into violence as anti-gay Russian nationalists clashed with people attending a gay pride event.
On Wednesday in Montenegro, riot police had to use boats to escort gay rights activists away from anti-gay protesters who shouted "kill the gays" and threw rocks during a rally in the coastal town of Budva.
In his speech Cameron also said there was a "lot of work to be done on homophobic bullying in schools" in the UK which he said was "still a scourge in our country".
"There's a lot of work to be done in terms of hate crimes and how we stop and stamp that out in our society. So there's still work to be done, but I hope we can agree we've taken a really important step forward."