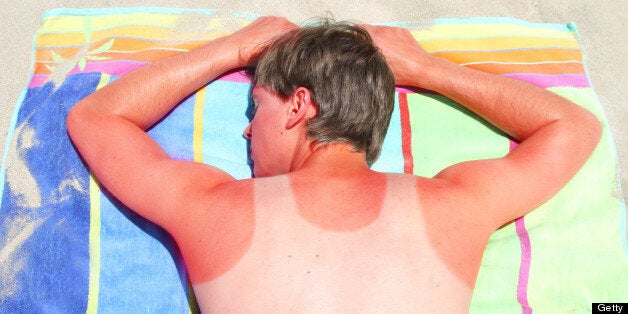 Schools are "failing young people" by not making sun safety a priority, a cancer charity said.
The Teenage Cancer Trust made the comments after a poll found that 97% of teachers do not know whether their school has a sun safety policy.
The charity said that parents should demand their children's schools should review their policies in time for the new school term in September.
A poll of 500 UK teachers, conducted by the charity, also found that half had never encouraged pupils to wear a hat in the sun and 31% said they never prompted students to stay in the shade during the hottest parts of the day.
And one in five said had never encouraged students to apply sun cream while at school.
The charity also questioned 500 children and young people, aged between 11 and 21, and found that a third had not been taught about sun safety "at all".
Nigel Revell, director of education at Teenage Cancer Trust, said: "Schools are failing young people.
"It's utterly shocking to see sun safety given such low priority. We know that burning skin at a young age can double the risks of skin cancer in later life.
"Schools must follow the National Institute for Health and Care Excellence recommendations and take responsibility for teaching young people about sun safety, and making sure pupils are protecting their skin when they're on school grounds."
The charity's head of nursing and quality in the north, Sam Smith, added: "A little bit of sun is good for you, but you only need around 10 minutes a day, three times a week without suncream to boost vitamin D levels and even this should be adjusted for skin type.
"We must all educate young people about the dangers of the sun and sunbed use, so they know how to protect themselves during this hot summer and for the rest of their lives."