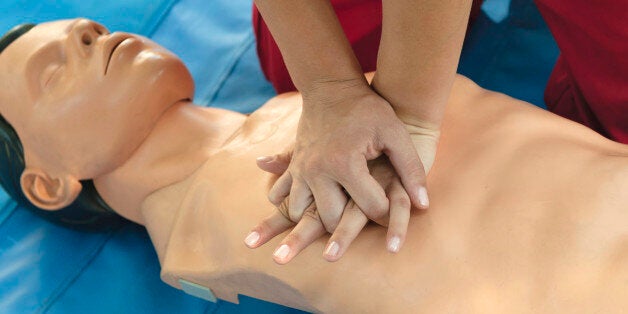 All school children should be taught how to resuscitate someone in an emergency, a charity has said, after it emerged around 6,000 people could be saved every year in the UK if more bystanders carried out an emergency procedure.
Research from the European Resuscitation Council (ERC) found that around 100,000 lives across Europe could be saved every year if more people knew how to do cardiopulmonary resuscitation (CPR).
The study found that if survival rates for cardiac arrest increased by 40%, as seen in the best performing nations in Europe such as Norway, then the lives could be saved each year.
The British Heart Foundation (BHF) extrapolated the figures and concluded that 6,000 lives could be saved each year in the UK if 40% more people survived.
At present, ambulance staff go to the aid of 30,000 people who suffer cardiac arrest each year - and just 20% of these people survive, the charity said.
The BHF said that the number of people dying unnecessarily from cardiac arrest is "unacceptable" and called for CPR to be taught in schools.
Charity chief executive Simon Gillespie said: "The number of people dying unnecessarily from a cardiac arrest in the UK is completely unacceptable and a needless loss of life.
"World-beaters like the Netherlands and Norway are proof that if more people are trained in vital CPR and have access to a defibrillator then survival rates will increase.
"We desperately need life-saving skills taught as standard in our schools and new laws requiring defibrillators in busy public places where a cardiac arrest can occur."
The ERC study found that bystander CPR rates vary widely across Europe, with Andalusia in Spain as low as 12% through to very high rates in the Netherlands (61%) and Sweden (59%).
"Unfortunately, only a small minority of cardiac arrest victims receive this vital help in time to save their life," said Professor Maaret Castren, chair of the ERC.
"If we could improve rates of bystander CPR in Europe to the levels seen in these best-performing nations, then around 100,000 lives could be saved each year.
"We are certain that if more people were trained (e.g. in key public places such as airports, gyms, hotels etc) and if more AEDs were placed on strategic points, 50% of the deaths by cardiac arrest could effectively be prevented."