It was the city known as the "capital of the revolution" by rebels fighting Syria's President Assad, one of the first cities to join the uprisings against the government in 2011.
But now Khaldiya, a key district in Homs, has been recaptured by government forces after a series of assaults.
Startling images of Homs have shown the extreme devastation of the Syrian civil war, with buildings crumbled to dust and whole neighbourhoods where all the homes, cafes, stalls and businesses are gone.
There are no cars on the streets, no morning shoppers or mopeds gliding through the passageways, just roadblocks of rubble.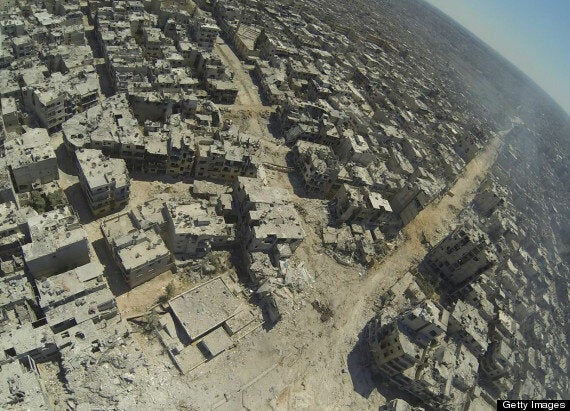 An aerial view of destruction in the al-Khalidiyah neighbourhood of the central Syrian city of Homs
The city became the country's rebel stronghold after thousands of people turned out to demonstrate against President Bashar al-Assad in 2011, ripping posters down and burning pictures of the leader.
And it is strategically vital, on the route to the coast from Damascus.
Now Assad's forces, backed by the military might of Lebanon's Hezbollah, are tightening their grip on the city, taking most of the Khalidiya neighbourhood, one of the few remaining districts there under control of rebel forces.
The complete fall of Homs would be a major coup for the government as the city straddles a key route linking Damascus to the Mediterranean coast, AFP reported.
The Syrian Observatory for Human Rights said troops had seized an ancient mosque and were concentrated on fighting insurgents on the outskirts of the district.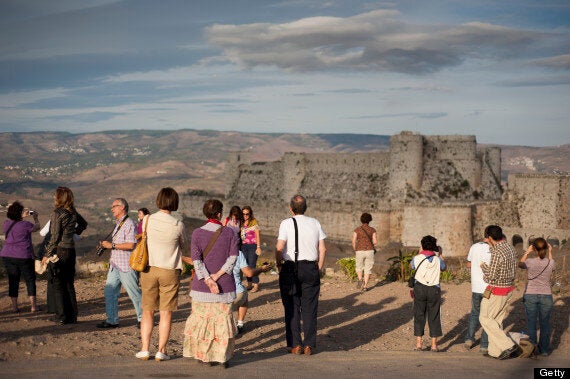 Tourists take pictures of the famous Crac des Chevaliers in Homs before the fighting began
It was here in Homs that Sunday Times journalist Marie Colvin and photographer Rémi Ochlik died covering the siege of the city in 2012, killed fleeing a media building which was targeted by Assad's forces.
The Center for Documenting Violations in Syria claims that at least 1,770 people have been killed in Homs since the uprising began. Aid organisations are blocked from delivering vital supplies like medicines, by the besieging forces.
Only the Old City and some smaller districts now remain in the hands of the rebels, in the city that came to symbolise the destruction of a country.
Popular in the Community