A coach out-of-control on an Italian flyover has plunged into a ravine, leaving at least 39 people dead.
The coach smashed into other vehicles, through safety barrier and down into steep 30-metre drop near the town of Avellino, in the Campania region.
The coach is believed to have been carrying about 50 people, including children, back to Naples following a trip to religious shrines.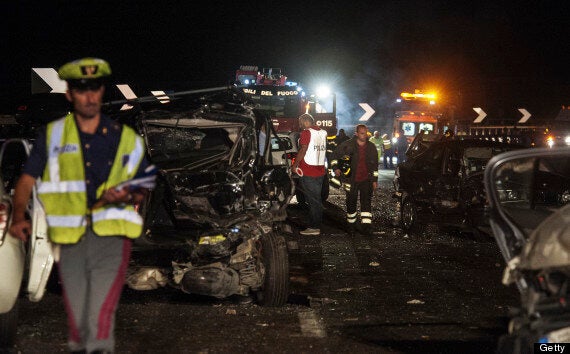 Rescuers walk among damaged cars on the road off which a bus crashed
One family of four is believed to have walked away from the wreckage unharmed, Italian media reported.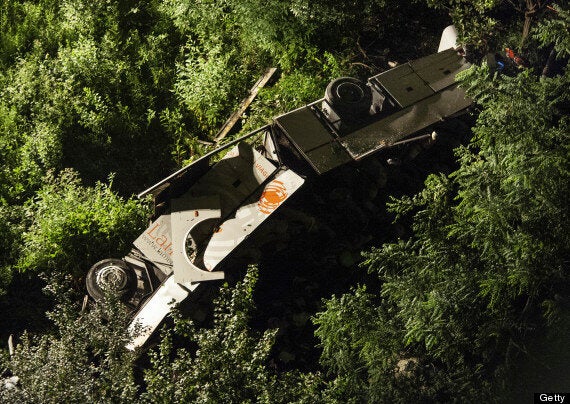 The coach is believed to have been carrying about 50 people
Eleven people, including three children, were injured and taken to nearby hospitals, the Ansa news agency reported. Two were reported to be in critical condition
The coach had been travelling at high speed when it crashed on the busy dual carriageway. Witnesses speculated that the coach may have had brake problems or a tyre blowout.
Some of those in the seven or eight cars hit by the bus are also thought to have been injured.
Foreign Secretary William Hague expressed his sympathies to the families of those who lost their lives: "On behalf of the British Government, I express my sincere condolences to the families and loved ones of all of those who lost their lives in yesterday's tragic coach crash.
"Our thoughts are with them at this very difficult time."