The mystery surrounding the burial of Richard III under what became a Leicester car park has deepened yet further, with the discovery of a strange coffin-within-a-coffin.
Archaeologists from The University of Leicester are still busy working on the site where the last of the Plantagenets was found - and said they had never seen anything this strange object.
The find is a lead coffin, found fully inside a stone casket, requiring eight people to lift the stone lid from the two-metre long outer coffin. Archaeologists believe it could be for than a century older than Richard III's remains.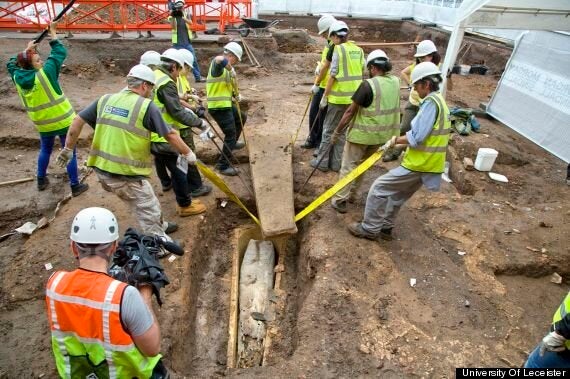 Lifting the lid, the stone coffin is opened at the Greyfriars dig site
The inner coffin is likely to contain a high-status burial. It could be one of two leaders of the English Grey Friars order - Peter Swynsfeld, who died in 1272, and William of Nottingham, who died in 1330.
It could also be 14th century knight Sir William de Moton of Peckleton, who died between 1356 and 1362.
Grey Friars site director Mathew Morris, of the University of Leicester Archaeological Services, told the BBC: "The stone coffin was always the big thing we wanted to investigate during this dig.
"For me, it was as exciting as finding Richard III. We still don't know who is inside - so there is still a question mark over it.
"None of us in the team have ever seen a lead coffin within a stone coffin before. We will now need to work out how to open it safely, as we don't want to damage the contents when we are opening the lid."
The bones of Richard III are due to be reinterred in Leicester Cathedral in May 2014, though it is subject to a legal challenge by campaigners who want his remains to be returned to York.