The Duchess of Cambridge is reportedly successfully breastfeedingnewborn Prince George.
The 31-year-old, who is currently staying with her parents in Bucklebury, Berkshire, was photographed wearing a dress designed especially for breastfeeding mothers as she left Kensington Palace on Wednesday.
The £50 dress, by maternity wear specialists Seraphine, has sold out online and there is now a four-week waiting list for it. Bye bye: The Duchess of Cambridge wore a maternity dress for breastfeeding mothers as she waved farewell to well-wishers at Kensington Palace last Wednesday An unnamed source told The Mirror: "It would be fair to say that Prince George has a healthy appetite. He is a very hungry little boy.
"I gather there were some difficulties at first – there often can be, as new mums get a little tense.
"But after some help from the midwife, they both caught on very quickly. As far as I can tell, Kate finds it very relaxing and George is just like any other little baby."
She added: "But don't expect Kate to be photographed breastfeeding. She does not want to become a pin-up for the breastfeeding lobby."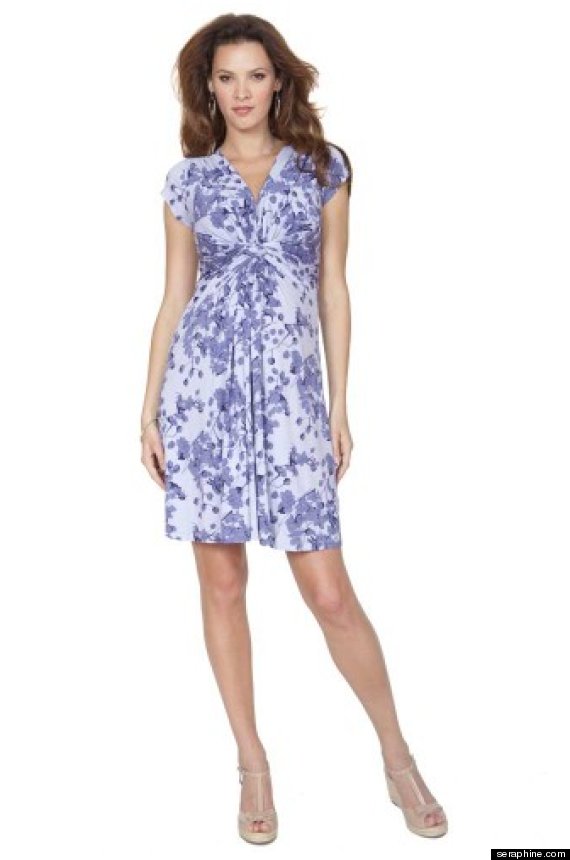 The £50 maternity dress for breastfeeding mothers has sold out
Breast milk contains nutrients, as well as hormones and disease-fighting compounds not present in formula milk.
The little boy was born in the private Lindo wing at St Mary's Hospital in London last Monday. His parents showed him off to the world just a day later, speaking of the "very emotional" event of his birth. Kate and William described their new son as 'very special'
Holding his son, William walked forward with his wife to answer a few questions from waiting journalists.
"He's got a good pair of lungs on him, that's for sure," he joked. "He's a big boy, he's quite heavy."