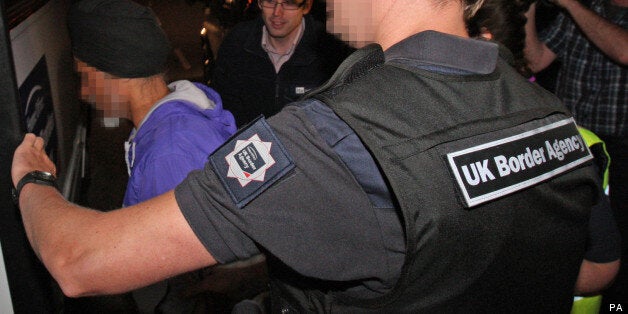 After "heavy handed" stop and search raids around the country, the Home Office has announced that 139 suspected illegal immigrants have been rounded up.
Ministers have faced mounting criticism over their tactics and rhetoric in recent weeks, which has included driving vans around London telling illegal immigrants to "go home'.
But the Home Office said: "We make no apology for enforcing our immigration laws."
The latest arrests were trumpeted by the Home Office on Twitter using the hashtag #immigrationoffenders - although none have yet been proved to be living here illegally.
Arrests were made in locations including London, Durham, Manchester, Wales and Somerset.
Immigration Minister Mark Harper said: "(Yesterday's) operations highlight the routine work we are carrying out every day to stamp out illegal working.
"We are sending a clear message to employers who choose to use illegal labour - we will find you and you will pay a heavy penalty.
"Illegal working undercuts legitimate businesses and is often linked to exploitative behaviour such as tax evasion and harmful working conditions.
"We will not allow the growth of a shadow economy for illegal migrants."
Civil penalty notices of up to £10,000 will be handed to employers suspected of using illegal labour.
Earlier, one London commuter said the officers were "heavy-handed" and "frightening".
Phil O'Shea told the Kilburn Times: "They appeared to be stopping and questioning every non-white person, many of whom were clearly ordinary Kensal Green residents going to work.
"When I queried what was going on I was threatened with arrest for obstruction and was told to 'crack on'."
Writing in The Independent, Dave Garratt, the chief executive of charity Refugee Action, warned that the operations could "incite racial tensions".
"Over the last few weeks we've seen some very visible signs of the Government's 'hostile environment' crusade. There have been vans out on the streets with threatening slogans and, reportedly, non-white people being visibly stopped and searched," he wrote.
"The Home Office is responsible for community cohesion.
"Yet we are increasingly seeing what appears to be hostility towards non-white immigration, which will do nothing but incite racial tensions and divisions within otherwise rich and diverse communities."
Shadow immigration minister Chris Bryant said: "The Home Secretary said that it is unacceptable to stop someone simply on the basis of their ethnicity.
"Theresa May said that someone from an ethnic background was seven times more likely to be stopped than a white person, and she said that this was wrong and we supported her.
"We must now have immediate reassurance from the Home Secretary that this is the case for immigration enforcement too."