Could today's benefits claimants stand the strict rules, conditions and means testing imposed by the 1949 welfare state?
In a striking new documentary, one woman receiving sickness benefits sees her income slashed from £155 a week to just £38.48, with her silver Nissan people carrier confiscated, because she is no longer entitled to a mobility allowance.
Channel 4's Benefits Britain 1949 challenges the sick, unemployed, disabled and the retired to live on the regime for a week, building an authentic 1940s benefit office in Nottingham, complete with costumed receptionist.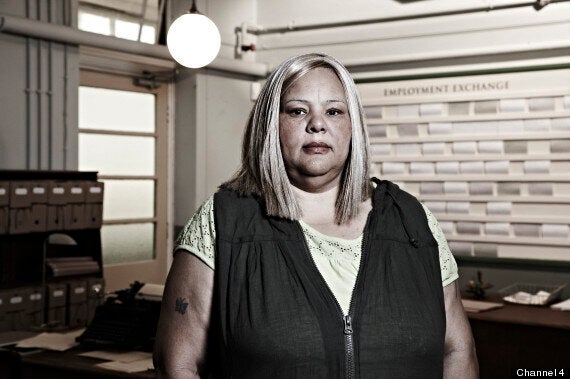 Karen McInoe, challenged to live on 1949 benefits
The show uses the Acts of Parliament and guidance to adjust 1949 benefits rules and hand-outs to 2013 prices.
Gesticulating with her rainbow acrylic nails, Karen McIndoe explains how she worked for 22 years as a care worker, but has been off sick for seven years, with arthritis, irregular heartbeat, diabetes, and high blood pressure.
"Because people can't see the pain I'm suffering, people just look at you and think: "I can't see nothing wrong with her,'" she says.
"Go to the younger people who aren't working, the people on the dole for 25 years, go to them. Leave me alone. I've done my share for Britain, leave me alone. They can f*** off."
She is challenged to perform agility tasks like picking up a sack of potatoes, then a single potato, typing and cutting out a star from a piece of paper. The benefits office judge her fit for alterations and tailoring work.
The scissors, she says, "hurt my joints a bit".
"I am in pain every single day, 24/7, I want to go to the park to play football with my grandchildren but I can't," she says.
Presenting the benefits office with a list of her disabilities, the benefits offer said that many of her conditions didn't exist in 1949, they are not recognised.
She is judged fit to work by 1949 standards, and could do light, part-time work, which Karen describes as "blackmail".
Sent to a factory which employs those with disabilities, Karen watches a woman with one hand handle a sewing machine, and tentatively asks what time the shifts start. "Early," her colleague says. "Do you want to have a go?"
When Karen tearfully refuses to do the work, she has to leave the experiment, with her benefits taken away.
"All you will see is a brave smile, but deep down I'm suffering. I just want people to stop judging me," she says.
But one of the more inspiring stories is Craig Newman, who's 24, who finds that being born with spina bifida doesn't entitle him to any benefits under the 1949 rules.
But the post-war welfare state has another solution: it offers him training and work experience, and it has the power to force employers to take on workers with disabilities.
After work experience, he's offered a full time job with a call centre at See Tickets. "I feel like a capable human again," he says, through tears. "My first ever job offer."
In 2013, just 46% of people of working age with disabilities are in work, in 1949, it was 94%.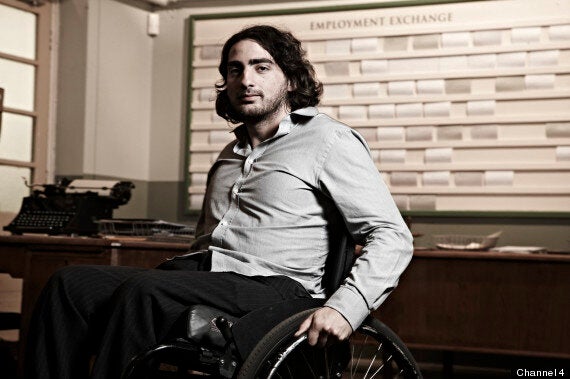 Craig Newman is offered a job after years unable to work
Former railway worker Melvyn Rowthorne, 71, hands over his 2013 pension, only to find that in 1949 he receives just £38.48. From this, he has to cover his food, bills and transport for the week, as 1940s culture expected that the elderly should be cared for at home.
Initially he appears to be coping well, but is soon plunged into debt and is forced to pawn his grandfather's watch. Unable to run his home, he must sell it and relocate to a state-funded old people's home.
Stoical, he is happy to embrace the change in lifestyle, enjoying the company and entertainment, and especially the food.
The documentary will also follow the fortunes of three claimants as they give up their 2013 entitlement to council housing and agree to be reassessed and are rehoused according to 1949 rules.
In 1949 it wasn't about how much you needed a house, but whether you were deemed suitable to deserve one. Single mum Nichola, 25, and her two young daughters are top of the housing priority list in 2013, but because she is unmarried she would never have qualified for a council house in 1949.
They are evicted from their council flat and have to fend for themselves
Patson arrived in the UK in 2002, fleeing violence in Zimbabwe. Under the system in 1949, Patson would not have to claim unemployment benefit, as a refugee he is allocated a job at a farm. Pleased at his new job, Patson is later upset to be turned away from a migrant workers hostel, because of rife institutional racism in 1949.
The programme also follow the fortunes of untidy tenants Matt and Heidi, offered the chance of 'rehabilitation' where they are taught how to cook, clean and behave, under threat of having their home taken away.
Benefits Britain 1949 airs at 9pm on Channel 4 tonight
Popular in the Community