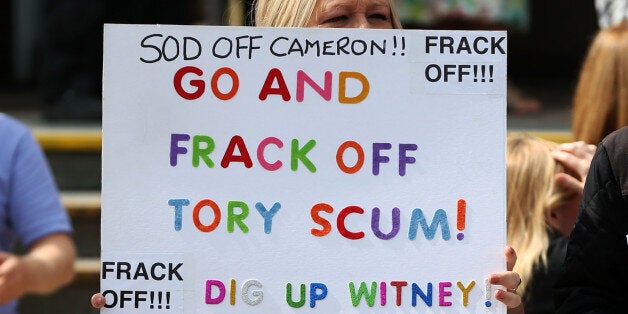 David Cameron has insisted that the whole of the country should accept fracking, claiming the controversial method of extracting gas will attract "real public support" when the benefits are explained.
The Prime Minister said the process would not damage the countryside and cause only "very minor change to the landscape".
Writing in The Daily Telegraph Mr Cameron said: "I want all parts of our nation to share in the benefits: north or south, Conservative or Labour."
He added: "If neighbourhoods can really see the benefits - and get proper reassurance about the environment - then I don't see why fracking shouldn't get real public support."
The Prime Minister's intervention follows comments from former Government adviser Lord Howell of Guildford, the father-in-law of Chancellor George Osborne, who suggested that fracking should be confined to "desolate" areas of northern England.
Fracking has transformed the energy market in the United States, cutting costs for households and businesses and ministers hope for a similar effect in the UK.
The Prime Minister said it has "real potential to drive energy bills down" and insisted that the Government was not "turning our back" on low carbon generation but needed to secure a mix of energy sources.
"If we don't back this technology, we will miss a massive opportunity to help families with their bills and make our country more competitive.
"Even if we only see a fraction of the impact shale gas has had in America, we can expect to see lower energy prices in this country."
In an effort to persuade communities of the benefits of fracking, the process of extracting gas by the hydraulic fracturing of rock using high pressure liquid, firms will offer £100,000 of benefits for each exploratory well.
Mr Cameron said: "Companies have agreed to pay £100,000 to every community situated near an exploratory well... If shale gas is then extracted, 1% - perhaps as much as £10 million - will go straight back to residents."
He also claimed a thriving shale-gas industry could create tens of thousands of jobs.
He sought to play down fears about the environmental dangers posed by fracking, claiming there was "no evidence" that it would cause contamination of water supplies or other damage if properly regulated.
Last week Mr Cameron said Britain would be "making a big mistake" if it did not seriously consider fracking and the prospect of cheaper gas prices.
The Prime Minister said the country is "missing out big time at the moment" and Mr Osborne warned it would be a "real tragedy" for the UK to allow the "energy revolution" to bypass it.
Environmentalists criticised the claims that fracking for shale gas could bring down energy prices in the UK.
Greenpeace energy campaigner Leila Deen said: "The Prime Minister's claim that UK shale gas will reduce energy prices doesn't stack.
"Experts from Ofgem to Deutsche Bank to drilling company Cuadrilla itself agree UK shale will not bring down bills because, unlike the US, the UK is part of a huge European gas market.
"The Government must come clean about where its getting its advice from, and the role shale gas lobbyists are playing in it.
"If this is David Cameron's attempt to reassure his party and voters, he'll have to up his game. We've seen that foisting fracking on communities - South or North - doesn't work, and his comments are likely to further stir rebellion in the Home Counties, not quell it."