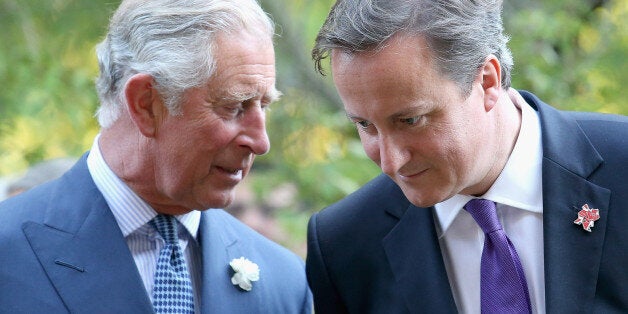 The Prince of Wales has held 36 private meetings with Cabinet ministers since the last general election, it has been revealed.
Charles has met Prime Minister David Cameron seven times during the period, and he has had talks with Labour leader Ed Miliband on three occasions.
A Clarence House spokesman said the Prince has a "duty to communicate privately with the Government on any matter he chooses".
Since May 2010, when the Coalition government came into power, Charles has also met Education Secretary Michael Gove, Business Secretary Vince Cable and Work and Pensions Secretary Iain Duncan Smith.
The Prince is known for his strong views on green issues and rural affairs but is meant to be politically neutral in his role as heir to the throne.
Last month, the Attorney General's decision to block public disclosure of letters Charles wrote to Government ministers was upheld by three High Court judges following a battle by the Guardian newspaper.
The judges refused to overturn Dominic Grieve's veto last October on the release of correspondence between the Prince and seven Government departments.
Mr Grieve, the Government's principal legal adviser, said his decision was based on his view that the correspondence was undertaken as part of Charles's ''preparation for becoming king'' and making the letters public could undermine his ability to fulfil his duties when monarch.
A Clarence House spokesman said that, during the meetings between the Prince and ministers, Charles brings "important insights, perspectives and knowledge built over 40 years of experience in a range of areas aimed at transforming lives and building sustainable communities".
"His Royal Highness receives ministers and officials from a broad range of Government departments on a regular basis, either in office meetings or through initiatives such as the cross-party Campaign for Youth Social Action, which he will lead, or addressing the issue of illegal trade in wildlife," the statement added.
"Official meetings, sometimes instigated by ministers, are important to the Prince in his role as heir to the throne.
"The Prince of Wales has a right - indeed it is his duty - to communicate privately with the Government on any matter he chooses, to bring his unique perspective and reflect the many issues people raise with him personally on his extensive engagements around the country.
"'Given these broad areas of interest, as well as specific events such as the Jubilee and Olympics, it is inevitable that HRH may, at times, see some ministers more than others. "