Remember Crazy Straws? Well this is nothing like that.
This is the Algaculture Symbiosis Suit which turns CO2 in your breath into algae which you can eat.
Essentially it's photosynthesis for people.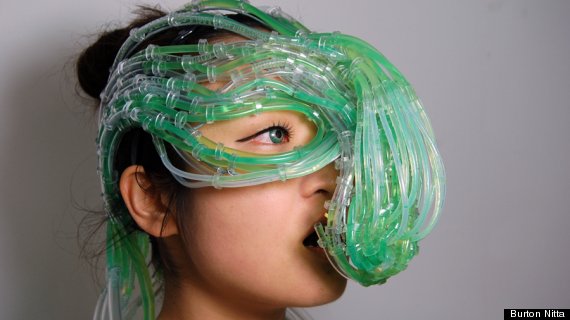 Constant free food although there's no word on how it tastes
Admittedly it looks a touch ridiculous in an alien-eating-your-face kinda way but it's actually very clever and the technology could have profound implications.
Algae has been touted as a solution to the problem of feeding an ever-expanding human population and many forms are already used in our food.
Somewhere in the not too distant future this could became a major and necessary food source and what is more ingenious than a replenishable and wearable breakfast, lunch and dinner.
As the designers, Michiko Nitta and Michael Burton, say on their website: "Why design new food on what we have now, when we could re-design how we fuel the body altogether?"
The suit debuted at 'The Algae Opera' at London's Victoria and Albert Museum where a singer belted out a significant amount of algae which the audience were then invited to eat.