A prominent Hindu nationalist politician, invited by MPs to speak in Britain, has drawn the ire of anti-Islamophobia campaigners, who insist he remains banned from visiting Britain.
Narendra Modi is a key member of the Hindu nationalist BJP party, and the Gujarat Chief Minister, widely tipped as a potential future prime minister.
But until 10 months ago he was banned from entering the UK, because of his extreme views, and questions over his involvement in the 2002 sectarian riots in Gujarat, where up to 2,000 people from the area's Muslim minority community were murdered.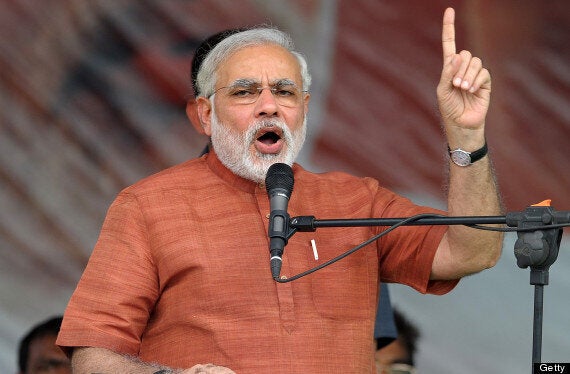 Chief Minister of Gujarat state and national election campaign chief of the main opposition Bharatiya Janata Party (BJP), Narendra Modi
He was invited by Labour Friends of India chair Barry Gardiner. "The invitation is a culmination of several years of engagement between senior representatives of the Labour Party and Narendra Modi," the Labour MP for Brent North told the Indian press.
"I am sure people in the UK and indeed the international community would be very interested to meet and hear what Narendra Modi has to say first hand. He is a politician who cannot be ignored.
I believe it's in Britain's best interests that we engage with him as both the chief minister of Gujarat and also potential prime minister," he added.
And the Conservative Friends of India has also issued an invitation. Co-chairman, Sailesh Vara MP said: "It would be a great privilege for us to host an event for you. I very much hope that you will take us up on this invitation when opportunity allows."
Even his former critics have argued it is time for the UK to heal relations with Modi. Lord Gulam Noon, a prominent British Indian Labour peer and one time critic of Modi, welcomed the latest invite for him to visit the UK.
"I think it's the right thing to do and the right time to do it. India's 1.2 billion people want and deserve a change.
Leading interfaith body Faith Matters has called on the Home Office to rescind Modi's visa, because of the divisive nature of his politics.
"Narendra Modi is a well-known Hindu nationalist leader who was banned for nearly a decade," said Fiyaz Mughal, director of Faith Matters and the Tell MAMA anti-Muslim hatred monitoring project.
Mughal has written to the UK Home Secretary, Theresa May MP, asking her to reaffirm the ban on Modi.
Kalpana Wilson, the author of the petition, said: "Recently we have seen the British government take steps to rehabilitate Modi, as evidenced by meetings between the British High Commissioner and Modi in Ahmedabad.
"This puts the interests of British corporates wishing to invest in Gujarat ahead of any concerns for human rights and justice, and makes a mockery of the rights of the three British citizens who were murdered during the genocide and whose families are yet to receive justice.
"We condemn this collusion in Modi's attempts to deny his role as a mass murderer. We demand that the invitation to Modi is withdrawn and he is refused a visa to the UK."
"Modi is grateful for the invitations, but has no immediate plans to visit the UK," a spokesperson for his office said.