A student who was dashed to school by an ambulance so he could sit his exam has gained the highest possible grades in his A-levels - securing him a place at Cambridge University.
Jeremy Budd, suffers from Asperger's syndrome and sensory neuropathy, which leaves him with limited mobility and unable to feel pain in certain situations.
The 18-year-old was set to miss his January statistics exam as the snow meant he could not walk into his school.
But a St John Ambulance rushed to his home in Horfield and managed to get him to St Mary Redcliffe and Temple School just in time for him to sit the two-hour paper.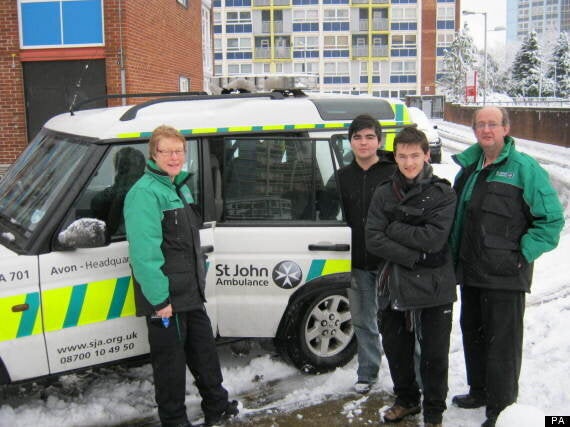 Jeremy with the ambulance team
Jeremy is now off to study maths at Cambridge University's Trinity College after picking up four A* A-levels in maths, further maths, chemistry and philosophy.


He also scored two "S" or Outstanding grades - the highest possible - in Cambridge's Sixth Term Examination Papers (Step).
"I was so grateful when the St John's Ambulance came to pick me up," he said.
"The exam started at 9am and I was worried I wouldn't make it.
"I have sensory neuropathy, which means I don't feel pain in certain situations.
"It did make things difficult in school, especially in classes like design and technology because I wouldn't notice if I was burning myself.
"I also have Asperger's and, as a result of the two, I have limited mobility, especially in my hands, so my writing speed is really slow.
"I've always done well at school but today I was really surprised with my results. I am really, really happy."
Jeremy was diagnosed with sensory neuropathy at an early age but his Asperger's was only picked up when he reached secondary school.
Tomorrow, he will fly to Denmark with his proud father, Chris, to attend a maths conference held by the European Study Group with Industry.
Mr Budd Snr, a professor of maths at the University of Bath, said: "Jeremy and I were both invited to attend the conference.
"Jeremy has achieved fabulous marks, I couldn't be more proud."
The teenager will celebrate his results tonight with mother Sue, a voluntary worker, and sister Bryony, 21, who studies anthropology and philosophy at the University of Edinburgh.
The pass rate at St Mary Redcliffe and Temple School was 99.3%, with 60% of them at grades A*, A and B.
Five students from the school, including Jeremy, will study at Oxford and Cambridge, while six others are starting medicine courses.
Headteacher Elisabeth Gilpin said: "It is great privilege to help so many talented young people step out confidently into the next stage of their lives, well equipped with good exam results.
"It is a joy to help our students start making their dreams a reality."