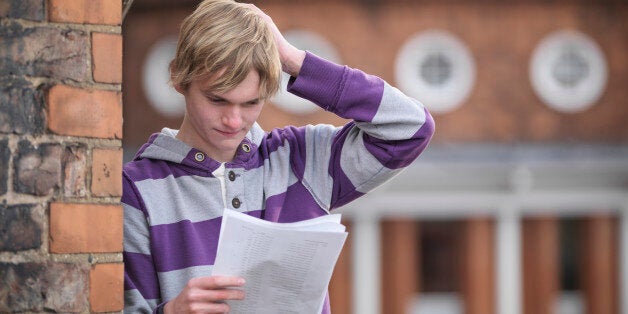 Sixth-formers who miss out on their predicted A-level grades should not dwell on the disappointment, and realise the situation could be worse, according to an academic.
Dr Matthew Smith, a senior lecturer in psychology at Buckinghamshire New University, said the best way for students to cope is to accept their results and start looking for other opportunities.
Exploring other options helps people to "move on" from their failure, he suggested.
His advice comes as England, Wales and Northern Ireland learn their A-level results.
Would-be university students can log into the Track service on the Ucas website to see if they have secured their degree place, or if they are eligible to enter clearing.
Clearing is the process that matches students who have not received offers, or who have been turned down by their original choices because they failed to meet the required grades, with available courses. A second system, adjustment, allows students who have done better than expected to trade up to a different course or institution.
Dr Smith said: "The best way to cope with disappointment is acceptance. Look to get it out of your system as soon as possible and look on the bright side. One of the first and most important steps is acceptance and accepting that you have not achieved what you wanted to achieve.
"This is not easy and can be quite challenging and it comes as a shock to people that they have not achieved what they wanted and immediately wish things had gone better. Here, acceptance must come in as quickly as possible."
Students should try to turn the situation to their advantage and look for other courses based on the results they have, he said.
"Exploring other options and opening up other opportunities will help you move on. Also, keep perspective. This is not the be-all and end-all and what has happened doesn't mean that your life is over. In a way it presents an exciting new amount of challenges and opportunities.
"For a long-term strategy for coping with disappointment, counterfactual thinking can be useful. Look at what has happened and realise that it could have been worse. For example, if you hoped for three As in your A-levels and have ended up with three Cs, think that it could have been worse and that you could have three Ds. Adopting this way of thinking helps you look on the bright side quicker and to move on."
Dr Smith added: "Ultimately when dealing with disappointment don't dwell on it. Realise that there are plenty of other opportunities and go out and grab them. There is no point in dwelling on it as you make it worse in the long-run."
Ucas, the university admissions service, said that students can start looking for courses with vacancies on its website.
It is thought that a number of leading universities will enter the clearing and adjustment process this year to offer last minute places to students who score at least an A and two Bs, as changes to higher education mean that there is no limit on the number of students above this threshold that they can recruit.
Students can make official clearing choices from 5pm today, but should call institutions beforehand to discuss courses and whether there are places available, Ucas said.
Ucas chief executive Mary Curnock Cook, said: "There will be a rich variety of courses offering vacancies through clearing this year, across a range of universities and colleges.
"Some 12% of all enrolments last year were through clearing which has now become a mainstream application route for higher education.
"If you are flexible and open-minded, clearing offers a chance to re-think your choices, make more realistic applications or even to fulfill new ambitions."
UCAS advisers are available to answer questions from 7.30am on 0871 468 0 468. Students can also speak to professional careers advisers through the Exam Results Helpline from 8am on 0808 100 8000.