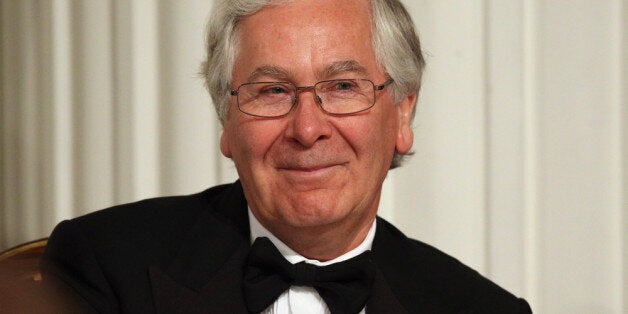 Mervyn King was given a £10,000 painting of himself as a leaving present by the Bank of England, along with a £597 silver napkin and a £2,505 bust of German writer Johann von Goethe.
Labour MP George Mudie, a member of the Commons treasury committee, said: "If I compare what happened to him and what happens to a nurse or teacher when they retire, I think ordinary people will be outraged at a time of austerity that such money should be lavished on someone who has a £198,000 pension.
"It is completely inappropriate, particularly in terms of austerity."
The portrait of Lord King is believed to be hanging outside the office of his successor Mark Carney, along with portraits of all the previous governors.
The bust of von Goethe was reportedly chosen after taking soundings from Lord King's family and friends.
The Bank of England paid for King's leaving presents, along with hosting three events to mark his departure at the Bank, costing more than £10,000, which also ran up a £1,501 bill for flowers and invitations.
The Bank said the governor was given the £597 silver napkin ring as a customary present for departing senior Bank officials, as it was a replica of those normally used in the directors' dining room.
The Bank said: "As with previous retiring governors, the bank commissioned a portrait of governor King, and presented him with a copy. This cost £10,000. In addition, the governor received a replica bust of Johann von Goethe. This cost £2,505.
"These costs were met by the bank, with the approval of the court of directors."
Sir Mervyn has a considerable pension after working at the Bank since 1991, with the last figures published saying it was worth £198,2000 a year, however it is likely to be worth more.
The Bank is not funded by taxpayers, but draws its funding from sources like the wider banking sector. The main source is known as a "cash ratio deposit", through which banks deposit cash interest-free with the Bank, which sinks it into investments that pay interest. The interest earned from the deposits is used by the Bank in order to fund its operations.
However, the coalition's 39% stake in Lloyds and 81% share of the Royal Bank of Scotland mean King's gifts were in theory funded partially by taxpayer contributions.
Matthew Sinclair, chief executive of the TaxPayers' Alliance, said: "Taxpayers and savers continue to pay for Bank of England policy so they will find it particularly egregious they are also paying so much for the governor's goodbyes."
Popular in the Community