The Independent newspaper has been heavily criticised for labelling students with 2:2 degrees "slackers", and questioning whether they should attend university if they don't "put in the hours".
Students and graduates called the article, which was published online on Friday, "ridiculous". The headline read: "Something for the slackers to focus on: A 2:1 degree is worth around £80k more to you than a 2:2," which was accompanied by a subhead reading: "Study raises questions about financial sense of students going to university if they are not prepared to put the hours."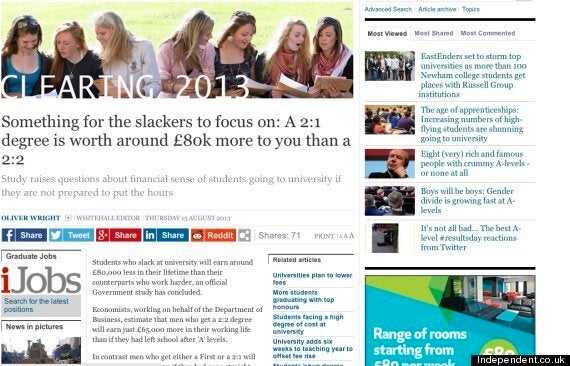 The Indy's article as it appeared on 16 August
The Indy's online student editor Tom Mendelsohn was quick to clarify he was not the author of the headline, although did tweet the article from the official account.

Mendelsohn later tweeted to HuffPost UK: "I should have given it a bit more thought before tweeting it out. I'll retool it on my page now."
Students and graduates took to Twitter to express their disappointment and anger at the headlines:

Students are 'slackers' says Indy
Oliver Wright, the article's author, was not responsible for the headlines either, which did not appear in the paper edition.
He told The Huffington Post UK: "The headline is in no way suggesting that everyone who gets a 2:2 is a slacker. Neither is it saying that everyone who gets a 2:2 is going to do less well in their careers.
"But this study shows that on average students who work less hard may end up suffering financially in later life."
Wright added he did not know who had written the headlines.
Universities and Science Minister David Willetts said: "A degree remains one of the best pathways to achieving a good job and a rewarding career - as well as a hugely enjoyable experience for most students."
Popular in the Community