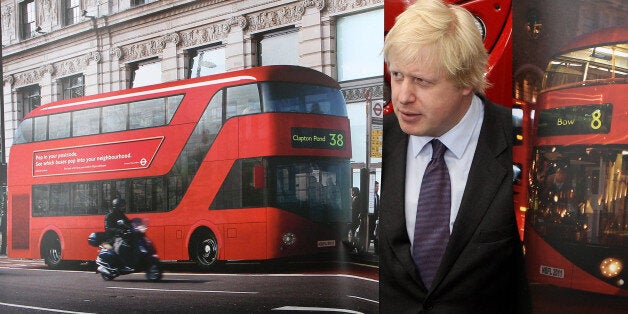 Boris Johnson could have broken European law in awarding a £428,000 contract for designing the new London Routemaster bus without publicly advertising and allowing competing bids from other companies, legal experts have warned.
Johnson's new Routemaster bus, dubbed the "New Bus for London", started service in the capital last February. The new double-decker vehicle was built by the Northern Irish manufacturer Wrightbus and designed by Heatherwick Studio, who also designed the Olympic cauldron.
Senior London Assembly figures have accused the Mayor of "wasting" over £400,000 on the buses' design contract with Heatherwick Studio. After a Freedom of Information request from the Huffington Post UK, Transport for London admitted that Heatherwick Studio was "selected" for the contract "without competition" in a process known as "single sourcing", with the decision made "following an assessment of [Heatherwick's] work and approach to industrial design, and involvement in other innovative projects".
Transport officials decided the contract did not need to be publicly advertised in the Official Journal of the European Union (OJEU) nor to accept competing bids to be entered as it was "categorized as a part B service under the EU and UK procurement regulations".
"We will always seek to ensure we obtain best value for money and this can on occasions mean that we engage with a supplier directly."
However, transport experts told the Huffington Post UK that the process of awarding a contract of that size could have broken European law by not being advertised.
Professor Christopher Bovis from Hull University, who wrote several books on public procurement law in the European Union, said: "If the public service contract is deemed to be Category B, it does not mean that the contracting authority can award the contract without any transparency and prior advertisement. The EU Public Procurement Directives still apply.
"If TFL directly awarded the contract without any call for tenders nor a competitive process which should demonstrate due process in complying with fundamental EU Law principles, then TFL has breached the procurement rules.
Transport for London could be legally liable if any business who chose to complain about being shut out of bidding for the design contract, Professor Bovis said.
"It very much depends on when the contract was concluded and who wants to raise a complaint. Theoretically, if the contract is deemed in breach of the EU Procurement Directives, it could declared as ineffective. Damages are due to a contractor who claims that he could have been awarded the contract instead of the incumbent."
"For purchases of over 25 thousand euros, they have to be put through a public tender and public purchases have to run a comparative process of bidding. European Union directives are clear on this."
Prof Ghobadian questioned why transport chiefs would justify approaching just one contractor to design the bus as "value-for-money" without considering more than one supplier, saying: "You don't know whether it's best and it's very difficult to know what would be best value. From a price point of view but also from a quality point."
"If you're trying to secure the best deal for the public, it's important to try and secure the best deal on the market."
"There must be 100 London design agencies and it would be clearly fatuous to say say no-one else could imitate the bus design."
"The whole procurement process was completely bizarre and opaque. The lack of a proper tendering process certainly raises a lot of questions."