To most digital viewers in Britain, Al Jazeera is just another news channel, sitting in the low five hundreds on the Sky EPG flanked by France 24 and CNC World. It's the kind of offering you might stray upon if you overshoot CNN or undershoot on Sky News.
It's Doha-based funding is known and accepted, while concerns over the channels supposed anti-western outlook have long since subsided… or at least been subsumed by a general apathy towards any impartiality in news media.
Yet in the U.S., where an Al Jazeera America launched on Tuesday, such acceptance may be harder to come by, despite the company throwing enough money at the project to establish 12 bureaus across the country, with 900 journalists and a lavish head office in New York City.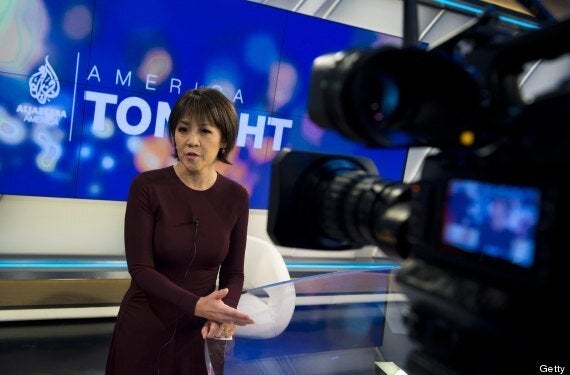 Joie Chen, host of the new Al Jazeera America nightly news program America Tonight
In an hour-long launch programme, the channel made clear its intent to become a major player in the highly competitive cable news marketplace, focusing on Fox, MSNBC, CNN et al. for being, as one bearded vox pop explained, "too much about opinion and not enough news".
Richelle Carey, one of channel's newly-hired anchors, continued the theme: "Americans want wider coverage and more real news," he said, with clips of Bill O'Reilly, Fox's blustering doyen, swirling around the screen to emphasise the point.
The broadcaster, which also promised to show less adverts per hour than the industry standard 15 minutes, has set about attracting some established names to help launch the channel, including CNN's Ali Velshi and Soledad O'Brien, while Kate O'Brian, formerly of ABC News, has been given the role of network president.
On Tuesday, the latter reaffirmed Al Jazeera's commitment to "unbiased in depth coverage of domestic and international news". She said: "We're breaking in with something that we think is unique and are confident, with our guts and some research, that the American people are looking for." Bill O'Reilly presents a daily comment show on Fox News
Yet Al Jazeera's image in the U.S. remains a problem, with the brand synonymous with the type of ingrained anti-Americanism that a couple of solid scoops simply isn't going to fix. The channel, eight months in the planning, has already encountered problems.
Al Gore, the former Vice President and founder of Current TV, oversaw its sale to Al Jazeera in January for $500m (£308m). Immediately, the broadcaster revealed that it was to use the channel to launch Al Jazeera America, which drew criticism, most notably from Time Warner Cable, one of the biggest cable operators in the U.S, accounting for more than 12 million homes.
Subsequently Time Warner dropped Current TV from its output, insisting: "Our agreement with Current has been terminated and we will no longer be carrying the service. We are removing the service as quickly as possible."
On launch, the channel is estimated to be available in around 48 million households, offering 14 hours of programming every day. But with established players such as CNN and Fox reaching more than 100 million U.S. households, Al Jazeera is likely to be in for a long and difficult road ahead.