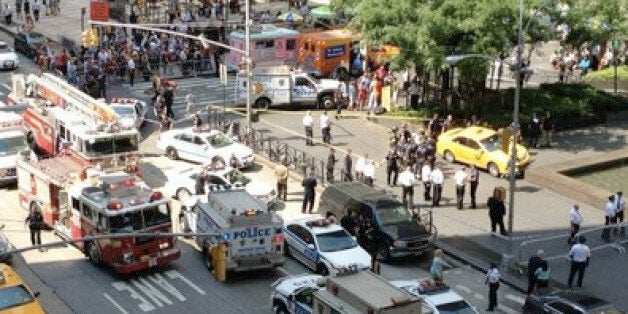 A British woman had her leg severed by an out of control taxi in the centre of New York City on Tuesday.
The accident, which happened around lunchtime, occurred near the famous Rockefeller Centre on the intersection of Sixth Avenue and West 49th Street.
The licensed cab rode onto the curb after swerving to avoid a cyclist, but hit the woman, causing massive damage to her leg.
American TV personality Dr. Oz, who witnessed the incident, rushed to the scene to aid the 23-year-old. The victim's leg was reportedly put on ice in the hope that it could be saved.
Speaking to Fox News, Mohammed Elsayed, a 50th Street hot dog vendor, said he could see the severed leg below the taxi. "I ran and got ice from the street vendors around and picked up the leg and put it in the ice and a box," he said.
Speaking to NBC, David Justino, a plumber who rushed to the scene, said he managed to create a tourniquet for the injured woman's leg. He said: "He hit the girl, she flew up in the air, her leg was severed right off... so I just grabbed my belt, went over, lifted her up, put it on, held it."
Related