Tensions between Britain and Russia are being strained further as David Cameron engages in a round of difficult diplomatic talks with Vladimir Putin over the crisis in Syria.
Following the reported deployment of large-scale chemical weapons in Damascus last week, Western countries are under increasing pressure to intervene.
Putin, a long-time ally of Bashar Assad, has warned that any military intervention by the Western powers would only serve to inflame the bloody civil war
According to Downing Street, both Cameron and Putin "reiterated the position agreed by all leaders at the G8 in June: no-one should use chemical weapons and any use would merit a serious response from the international community". However, the Russian leader told Cameron that there was "no evidence of whether a chemical weapons attack had taken place or who was responsible". Cameron and Putin have clashed over Syria
More from the Press Association
Cameron is to chair a meeting of the National Security Council on Wednesday to discuss potential responses to the deadly attack after breaking off his family holiday in Cornwall to return to Downing Street.
Number 10 said a decision would be made tomorrow over whether to recall Parliament amid increasingly vocal demands from MPs on all sides to be given the chance to pre-approve any UK involvement in military action.
He declined to rule out the possibility of action such as targeted missile strikes being launched within days after Britain, the US, France and Germany agreed the need for firm action to punish the use of chemical weapons.
Russia, a key Assad ally which continues to supply arms to the regime, has consistently vetoed efforts to secure a UN mandate for action, to the frustration of Mr Hague and international allies.
Foreign minister Sergei Lavrov said there was no evidence that Assad's forces had used chemical weapons and countries considering military action were acting in breach of an agreement at the G8 conference in June.
"We have no plans to go to war with anyone," he told a press conference, warning the use of force without Security Council backing would be "a crude violation of the international law" like the US-led invasion of Iraq in 2003.
But Hague said the Security Council had failed to "shoulder its responsibilities" on Syria - and could have helped end the conflict "a long time ago" had Russia and China not deployed vetoes.
He said: "Is it possible to respond to chemical weapons without complete unity on the UN Security Council?
"I would argue yes it is - otherwise it might be impossible to respond to such outrages, to such crimes, and I do not think that is an acceptable situation."
Any intervention would be "in accordance with international law and will be based on legal advice to the national Security Council and to the Cabinet", Hague stressed.
Deputy Prime Minister Nick Clegg has cancelled a visit to UK troops serving in Afghanistan so that he can continue to take part in the Government talks over the Syria crisis.
A spokesman for Clegg, who is the deputy chair of the National Security Council, said he supported the need for a "strong response" from the international community to the "abhorrent" use of chemical weapons.
The inspectors were travelling to the site of the attack in a suburb of Damascus when one of their vehicles was "deliberately shot at multiple times by unidentified snipers in the buffer zone area", a UN spokesman said.
They have since replaced the car and made it unharmed into the area where nerve agents are reported to have killed hundreds, where they interviewed survivors, witnesses and doctors and collected samples.
UN secretary-general Ban Ki-moon said he had asked UN disarmament chief Angela Kane to make a "strong complaint" to the regime and opposition forces "so that this will never happen again" and inspectors' security would be assured.
Cameron discussed the crisis with US president Barack Obama for 40 minutes in a telephone call at the weekend, agreeing the need for a "firm response" from the international community.
He also spoke with his French and German counterparts and ordered officials to consider "all options" and his discussion with Mr Putin was among further calls expected to be made today in an effort to secure a co-ordinated response.
Hague told MPs demanding the recall of Parliament from its summer break ahead of any British involvement that it would "depend on the timing and nature of what we propose to do".
"Of course we are conscious of the views of Parliament on these matters and the need to be consulted so we are very conscious of that," he said.
But that failed to dampen cross-party calls for MPs to be brought back before next Monday's scheduled return.
A Downing Street spokesman said: "The Government will decide tomorrow whether the timetable for our response means it will be necessary to recall MPs sooner than Monday when the House is currently due to return."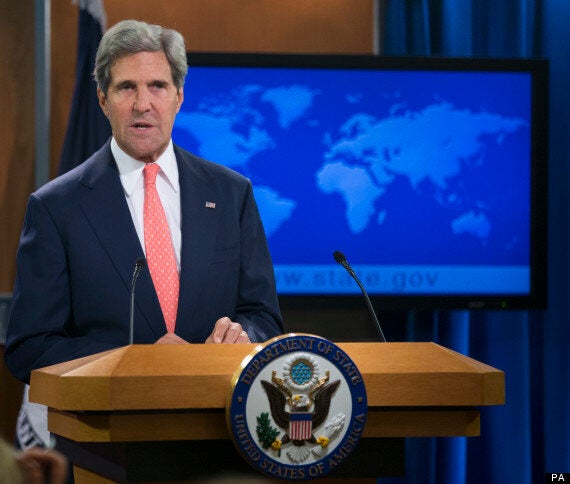 Kerry: 'The president will be making an informed decision about how to respond'
In a clear message to Moscow, he said anyone who continued to claim doubts about the footage of the aftermath of the attack "needs to check their conscience and their own moral compass".
He said the shooting of the inspectors' car "further weakens the...credibility" of the regime, which he accused of shelling the area while it was refusing access to destroy evidence.
And though he gave no details of what the response might be, he said Obama "believes there must be accountability for those who would use the world's most heinous weapons against the world's most vulnerable people".
"The president will be making an informed decision about how to respond," he told reporters in a statement.
The regime was undoubtedly responsible for a "moral obscenity" that "should shock the conscience of the world", he said.
"By any standard it is inexcusable and despite the excuses and equivocations that some have manufactured, it is undeniable," he said.
"No matter what you believe about Syria, all peoples and all nations who believe in the cause of our common humanity must stand up to ensure that there is accountability for the use of chemical weapons so that it never happens again.
"Anyone who can claim that an attack of this staggering scale could be contrived or fabricated needs to check their conscience and their own moral compass.
In an uncompromising address, he said he had watched the videos of the attack - which quickly circulated on social media but which Russia has said could be opposition propaganda - "one more gut-wrenching time".
The reported number of victims and their symptoms, and first-hand accounts from independent bodies on the ground "all strongly indicate that everything these images are already screaming at us is real - that chemical weapons were used in Syria", he said.
Kerry added: "We have additional information about this attack. That information is being compiled and reviewed together with our partners and we will provide that information in the days ahead.
In his conversation with Putin, Cameron "made clear that there was little doubt that this was an attack carried out by the Syrian regime", Number 10 said.
"There was no evidence to suggest that the opposition had the capability to carry out such a significant attack and the regime had launched a heavy offensive in the area in the days before and after the incident. The regime had also prevented UN access in the immediate aftermath, suggesting they had something to hide," he told him.